Wednesday 23 December 2020
Posted by

Kizitomg
at 01:03

Saturday 19 December 2020
Posted by

Kizitomg
at 02:47

Saturday 12 December 2020
US approves Pfizer vaccine as millions of doses begin shipping
https://www.monitor.co.ug/uganda/news/world/us-approves-pfizer-vaccine-as-millions-of-doses-begin-shipping-3226470
Saturday December 12 2020
By AFP News
The US green lighted the Pfizer-BioNTech Covid-19 vaccine late Friday, paving the way for millions of vulnerable people to receive their shots in the world's hardest-hit country.
President Donald Trump immediately released a video on Twitter, where he hailed the news as a "medical miracle" and said the first immunizations would take place "in less than 24 hours."
It comes as infections across America soar as never before, with the grim milestone of 300,000 confirmed deaths fast approaching.
The US is now the sixth country to approve the two-dose regimen, after Britain, Bahrain, Canada, Saudi Arabia and Mexico.
The move came earlier than expected, and capped a day of drama after it was widely reported that the White House had threatened to fire Food and Drug Administration chief Stephen Hahn if he did not grant emergency approval Friday.
Trump's intervention reinserts politics into the scientific process, which some experts have said could undermine vaccine confidence.
The US is seeking to inoculate 20 million people this month alone, with long-term care facility residents and health care workers at the front of the line.
The government also said Friday that it is buying 100 million more doses of the Moderna vaccine candidate, amid reports the government passed on the opportunity to secure more supply of the Pfizer jab.
The purchase brings its total supply of Moderna doses to 200 million, enough to immunize 100 million people with the two-shot regimen that could be approved as early as next week.
Both frontrunners are based on mRNA (messenger ribonucleic acid), a major victory for a technology that had never previously been proven.
Two other vaccine candidates stumbled Friday: France's Sanofi and Britain's GSK said their vaccine would not be ready until the end of 2021.
And in Australia, the development of a vaccine at The University of Queensland was abandoned Friday after clinical trials produced a false positive HIV result among subjects involved in early testing.
Sputnik mix
The mixed news on the vaccine front comes as infections accelerated fast in North America and parts of Africa but started to stabilize in Europe and drop in Asia and the Middle East.
Around the world more than 1.58 million lives have been lost to Covid-19 since it emerged in China a year ago, according to an AFP tally from official sources.
Brazil on Friday crossed 180,000 deaths, despite President Jair Bolsonaro's insistence the crisis was at the "tail end."
But across the Pacific Ocean, New Zealand, which has been praised for its handling of the virus, took its first tentative steps towards reopening its borders -- with the tiny Cook Islands.
Countries which have approved the Pfizer-BioNTech jab meanwhile were preparing for roll out, as the World Health Organization warned of a potentially grim Christmas season.
Following Britain's lead, the first vaccine shipments to 14 sites across Canada are scheduled to arrive Monday with people receiving shots a day or two later.
Israel, which accepted its first shipment of the Pfizer vaccine on Wednesday, is targeting a rollout on December 27.
And Hong Kong said Friday it had struck deals for two vaccines -- one from Pfizer and the other from Beijing-based Sinovac -- with plans to launch a campaign in early 2021.
A new combined approach is also being tested by AstraZeneca, whose Russian operation said it would mix its shot with the locally-made Sputnik V vaccine in clinical trials.
Russia and China have already begun inoculation efforts with domestically produced vaccines that have seen less rigorous vetting.
EU countries are eagerly awaiting clearance on the Pfizer and Moderna vaccines, in late December and early January respectively.
Carbon down
As Europe's surge eases off slightly, France is planning to lift a six-week-long lockdown from Tuesday but impose a curfew from 8.00 pm, including on New Year's Eve.
Greece also announced new plans Friday to slash quarantine time for incoming travelers and reopen churches for Christmas.
But Switzerland, which is seeing a sharp resurgence in cases, announced a 7:00 pm curfew for shops, restaurants and bars.
While lockdowns have brought economic pain, boredom and myriad other woes, the effect on the environment has been more positive.
Carbon emissions fell a record seven percent in 2020 as countries imposed lockdowns, according to the Global Carbon Project.
What's Not Being Said About the Pfizer Coronavirus Vaccine. "Human Guinea Pigs"?
https://www.globalresearch.ca/what-not-said-pfizer-coronavirus-vaccine/5729461
Global Research, December 05, 2020
Bill Gates is actively financing and promoting new untested vaccines supposed to keep us at least somewhat safe from a 'ghastly" death from the novel coronavirus and supposedly allow us to resume somewhat "normal" lives. The Pharma giant Pfizer has now announced what they claim were spectacular results in initial human tests. They use an experimental technology known as gene editing, specifically mRNA gene-editing, something never before used in vaccines. Before we rush to get jabbed in hopes of some immunity, we should know more about the radical experimental technology and its lack of precision.
The financial world went ballistic on November 9 when the pharma giant Pfizer and its German partner, BioNTech, announced in a company press release that it had developed a vaccine for Covid19 that was "90%" effective.
The controversial US head of NIAID, Tony Fauci (right) rushed to greet the news and the EU announced it had purchased 300 million doses of the costly new vaccine. If you believe financial markets, the pandemic is all but past history.
Suspicious events
However it seems Albert Bourla, the CEO of Pfizer, doesn't share the confidence of his own claims. On the day his company issued its press release on the proposed vaccine trials, he sold 62% of his stock in Pfizer, making millions profit in the deal. He made the sell order in a special option in August so it would not appear as "insider selling", however he also timed it just after the US elections and the mainstream media illegitimately declared Joe Biden President-elect. It seems from appearances that Bourla had a pretty clear conflict of interest in the timing of his press release on the same day.
Bourla lied and denied to the Press that his company had received any funds from the Trump Administration to develop the vaccine when it came out they contracted in summer to deliver 100 million doses to the US Government. Further adding to the suspect actions of Pfizer was the fact the company first informed the team of Joe biden rather than the relevant US government agencies.
But this is far from the only thing alarming about the much-hyped Pfizer announcement.
The German Partner
Pfizer, famous for its Viagra and other drugs, has partnered with a small Mainz, Germany company, BioNTech, which has developed the radical mRNA technique used to produce the new corona vaccine. BioNTech was only founded in 2008. BioNTech signed an agreement with the Bill & Melinda Gates Foundation in September, 2019, just before announcement in Wuhan China of the Novel Coronavirus and just before BioNTech made its stock market debut. The agreement involved cooperation on developing new mRNA techniques to treat cancer and HIV. Curiously that press release, "The Gates Foundation sees BioNTech potential to 'dramatically reduce global HIV and tuberculosis'" 05. September 2019, has now been deleted.
BioNTech also has an agreement with one of the largest drug producers in China, Shanghai Fosun Pharmaceutical Co., Ltd ("Fosun Pharma") to develop a version of its mRNA vaccine for novel coronavirus for the Chinese market. Ai-Min Hui, President of Global R&D of Fosun Pharma said in an August statement, "Dosing the first Chinese subject with BNT162b1 marks a milestone of the global co-development program in China. We are closely working with BioNTech and regulatory authorities to evaluate the safety and efficacy of BNT162b1 and other mRNA vaccine candidates…"
This means that the same German biotech company is behind the covid vaccines being rushed out in China as well as the USA and EU. The vaccine is being rushed through to eventual approval in an alarmingly short time.
Both US and EU authorities and presumably also Chinese, waived the standard animal tests using ferrets or mice and have gone straight to human "guinea pigs." Human tests began in late July and early August. Three months is unheard of for testing a new vaccine. Several years is the norm. Because of the degree of global panic engendered by WHO over the coronavirus, caution is thrown to the wind. Vaccine makers all have legal indemnity, meaning they can't be sued if people die or are maimed from the new vaccine. But the most alarming fact about the new Pfizer-BioNTech gene edited vaccine is that the gene edited mRNA for human vaccine application has never before been approved. Notably, two year peer reviewed tests with mice fed genetically modified corn sprayed with Monsanto glyphosate-rich Roundup first showed cancer tumors after nine months as well as liver and other organ damage. Earlier Monsanto company tests ended at three months and claimed no harm. A similar situation exists with the gene edited mRNA vaccines that are being rushed out after less than 90 days human tests.
"Explicitly experimental"
Dr. Michael Yeadon replied in a recent public social media comment to a colleague in the UK; "All vaccines against the SARS-COV-2 virus are by definition novel. No candidate vaccine has been… in development for more than a few months." Yeadon then went on to declare,
"If any such vaccine is approved for use under any circumstances that are not EXPLICITLY experimental, I believe that recipients are being misled to a criminal extent. This is because there are precisely zero human volunteers for…whom there could possibly be more than a few months past-dose safety information."
Yeadon is well qualified to make the critique. As he notes in the comment, "I have a degree in Biochemistry & Toxicology & a research based PhD in pharmacology. I have spent 32 years working in pharmaceutical R&D, mostly in new medicines for disorders of lung & skin. I was a VP at Pfizer & CEO…. of a biotech I founded (Ziarco – acquired by Novartis). I'm knowledgeable about new medicine R&D." He was formerly with Pfizer at a very senior level.
Human guinea pigs?
The Pfizer-BioNTech vaccine is experimental and far from guaranteed safe, despite the fact that Pfizer, the EU and the notorious Dr Tony Fauci seem ready to roll it out even before year end to hundreds of millions of humans.
The experimental technology is based on a rather new gene manipulation known as gene editing. In a major article in the 2018 New York Council on Foreign Relations magazine, Foreign Affairs, Bill Gates effusively promoted the novel gene editing CRISPR technology as being able to "transform global development." He noted that his Gates Foundation had been financing gene editing developments for vaccines and other applications for a decade.
But is the technology for breaking and splicing of human genes so absolutely safe that it is worth risking on a novel experimental vaccine never before used on humans? Contrary to what Bill Gates claims, the scientific answer is no, it is not proven so safe.
In a peer reviewed article in the October, 2020 journal Trends in Genetics, the authors conclude that "the range of possible molecular events resulting from genome editing has been underestimated and the technology remains unpredictable on, and away from, the target locus."
Dr. Romeo Quijano, retired professor of Pharmacology and Toxicology at the College of Medicine, University of the Philippines Manila, noted some of the dangers of the experimental gene editing when applied to human vaccines. Quijano warns of,
"the danger that the vaccine might actually "enhance" the pathogenicity of the virus, or make it more aggressive possibly due to antibody-dependent enhancement (ADE), as what happened with previous studies on test vaccines in animals. If that should happen in a major human trial the outcome could be disastrous. This serious adverse effect may not even be detected by a clinical trial especially in highly biased clinical trials laden with conflicts of interest involving vaccine companies. Even when a serious adverse event is detected, this is usually swept under the rug."
He cites the case of another Gates mRNA vaccine candidate, Moderna, where "three of the 15 human experimental subjects in the high dose group suffered serious and medically significant symptoms. Moderna, however, concluded that the vaccine was "generally safe and well tolerated," which the corporate-dominated media dutifully reported, covering-up the real danger…"
He notes,
"Exogenous mRNA is inherently immune-stimulatory, and this feature of mRNA could be beneficial or detrimental. It may provide adjuvant activity and it may inhibit antigen expression and negatively affect the immune response. The paradoxical effects of innate immune sensing on different formats of mRNA vaccines are incompletely understood." Quijano adds, "A mRNA-based vaccine could also induce potent type I interferon responses, which have been associated not only with inflammation but also potentially with autoimmunity… and may promote blood coagulation and pathological thrombus formation."
Quijano writes in the extensively documented article,
"among other dangers, the virus-vectored vaccines could undergo recombination with naturally occurring viruses and produce hybrid viruses that could have undesirable properties affecting transmission or virulence. The…possible outcomes of recombination are practically impossible to quantify accurately given existing tools and knowledge. The risks, however, are real, as exemplified by the emergence of mutant types of viruses, enhanced pathogenicity and unexpected serious adverse events (including death) following haphazard mass vaccination campaigns and previous failed attempts to develop chimeric vaccines using genetic engineering technology."
Bill Gates, the mRNA vaccine makers including Pfizer/BioNTech and Moderna, and their close allies such as Dr. Tony Fauci of the NIAID are clearly playing fast and loose with human lives in their rush to get these experimental vaccines into our bodies. Notably, the same Dr. Fauci and his NIAID owns the patent on a vaccine for dengue fever known as Dengvaxia, marketed by Sanofi-Pasteur and promoted as an "essential" vaccine by Tedros' WHO since 2016. Robert F. Kennedy Jr. (right) noted that Fauci and NIAID "knew from the clinical trials that there was a problem with paradoxical immune response," but they gave it to several hundred thousand Filipino kids anyway. It was estimated that as many as 600 vaccinated children died before the government stopped the vaccinations.
Clearly the well-established Precautionary Principle–if in serious doubt, don't– is being ignored by Fauci, Pfizer/BioNTech and others in rushing to approve the new mRNA vaccine for coronavirus. Messenger RNA technology has yet to produce an approved medicine, let alone a vaccine.
What Happens if Something Goes Wrong after You Receive a COVID Vaccine?
https://www.globalresearch.ca/what-happens-something-goes-wrong-after-receive-covid-vaccine/5731896
Global Research, December 11, 2020
The bottom line is that if you are injured by a vaccine or other "countermeasure" designated by the DHHS Secretary as intended for a pandemic or bioterrorism threat (Covid-19, Pandemic Flu, Anthrax, Smallpox) your options for receiving any financial benefit are very limited.
First, everyone involved with getting the vaccine to you has had their liability waived under the PREP Act. This includes everyone from the government planners of the vaccine program down to the doctor, nurse or even pharmacy intern who injects you. None can be sued in federal or state court, unless they wilfully tried to harm you. And it is virtually impossible to show wilfull misconduct.
Congress did create a program to compensate some victims, but it is much less generous than the National Vaccine Injury Compensation Program (NVICP). (And no one ever accused the NVICP of being generous.). It is called the Countermeasures Injury Compensation Program (CICP).
It is entirely administered within the Department of Health and Human Services, the same agency that sponsored the vaccine program. There are no judges. If you are dissatisfied with the decision, the only appeal is to DHHS, where your case is reviewed by different employees. DHHS is the payor, too. DHHS therefore essentially acts as the judge, jury, and defendant. Unsurprisingly, only about 9% of people who applied to the program received any funds. Of the 446 claimants to the program, 407 were denied.
Unlike the NVICP, the CICP does not pay any attorney fees, expert witness fees or costs associated with filing a claim. When I spoke to Dr. Caserta, the program's prior director, the maximum payout, even for a death or permanent disability, was $250,000 per person.
Dr. Caserta told me the CICP was a "payor of last resort"–which meant that if the claimant had other sources of funds, such as from insurance policies, that CICP would only pay the difference. In other words, if you had a disability policy that paid out $150,000, that amount would be deducted from the maximum payout you could receive from the CICP.
The CICP has a one year statute of limitations. This has been very tough on claimants, because most people are unaware the program exists, and therefore have been barred from filing because more than a year has elapsed since they were injured.
And there is another big problem with claims for injuries from Covid vaccines: nobody knows exactly what the serious injuries are, nor how to identify them with certainty. DHHS is responsible for defining what types of injuries may be caused by each product. Will they acknowledge that the injury you suffered could be caused by the vaccines they sponsored? Will they do it in time for that one year statute of limitations? Will they ever do it?
If you become injured after receiving a designated "countermeasure" vaccine, do not anticipate that you will get help from the government nor from the manufacturers. Please inform yourself of the benefits and risks beforehand.
The Congressional Research Service explains the way the system works in detail, focusing on the "sweeping" liability immunities that characterize the program, in a booklet published in September, titled, "The PREP Act and Covid-19: Limiting Liability for Medical Countermeasures"
Let the buyer beware.
UPDATE: On December 7 I got a call back from Mr. Dale Mishler at the CICP. He would not tell me if there was a specific cap on benefits, nor the maximal amount that has so far been paid out for an injury. He told me I would have to FOIA for the information, although the CICP website was under design and in several weeks I could probably find the information there. (It is known that the average benefit paid to 39 recipients since 2010 has been $146,000.)
Mr. Mishler also told me that the CICP now follows the Public Safety Officers Benefits program managed by the DOJ. The PSOB appears to provide a maximal benefit of $370,000 for those injured on or after October 1, 202. However, the description of the program on the PSOB website is vague.
According to Reuters:
An HRSA spokesman said the CICP denies claims for a variety of reasons, including the legal requirement there be "compelling" scientific evidence that a vaccine directly caused injury. CICP only covers medical costs and lost income not covered by others, such as private health insurance.
Isn't it ironic that experimental vaccines rushed out under emergency use, with extremely short clinical trials, are unlikely to yield the "compelling" evidence of vaccine causality within the one year statute of limitations?
*
Note to readers: please click the share buttons above or below. Forward this article to your email lists. Crosspost on your blog site, internet forums. etc.
Posted by

Kizitomg
at 05:50

Margaret Nakayima alias "Nabbie Omukazi" has been remanded for allegedly helping Pastor Siraj Ssemanda escape punishment after fleecing thousands of his followers more Shs4.5 billion in fake state house scholarship programmes.
MUST READ:
Thuggery of late Occultist Yiga's satanic network : Pastor Siraje Ssemanda: Man who allegedly connived with Pastor Mondo, Catherine Kusasira to defraud Pastors billions of cash arrested
https://watchmanafrica.blogspot.com/2020/11/pastor-siraje-ssemanda-man-who.html
Dead Occultist Augustine Yiga's Concubine known as Maggie Kayima alias Nabbi Omukazi spills sex secrets : I dated Pastor Yiga for 8 years, he was the best 'husband"
https://watchmanafrica.blogspot.com/2020/10/dead-occultist-augustine-yigas.html
Musician Maggie Kayima remanded over helping pastor evade arrest
https://www.monitor.co.ug/uganda/news/national/musician-maggie-kayima-remanded-over-helping-pastor-evade-arrest--3226234
Saturday December 12 2020
By Betty Ndagire
Local gospel musician Margaret Kayima alias Maggie Kayima has been remanded for allegedly helping Pastor Siraj Ssemanda escape punishment after fleecing thousands of his followers more Shs4.5 billion in fake state house scholarship programmes.
In a session presided over by magistrate Dorothy Bagyenyi, Ms Kayima also commonly known as Nabbi Omukazi on Friday denied a charge of being an accessory to the offence.
Upon entering a plea of not guilty, the trial magistrate, Ms Bagyenyi opted to remand her until December 22, 2020 for mention of charges.
The state contends that on November 15, between Kampala and Mutukula border in Kyotera district, Kayima assisted Ssemanda, the founder of Revival Church Bombo in Luweero District, whom to her knowledge was guilty of an offence in order to enable him escape punishment.
Kayima's co-accused include; Pr Ssemanda, and a lawyer, Jimmy Arinaitwe, the director of Hands across the world initiative Uganda limited.
Earlier, court remanded the duo on 12 counts; ranging from obtaining money by false pretense and conspiracy.
Renowned pastor Franklin Mondo Mugisha of the Empowerment Christian Center Church International has also been summoned by court for plea taking over related charges.
Prosecution states that Pr Ssemanda, Arinaitwe, Pr Mugisha and others still at large, between 2017 and March 2019, in Bombo-Luweero and Kampala with intent to defraud, obtained millions from several people falsely pretending that their organization, Hands across the world initiative Uganda Limited, would construct churches for pastors, houses for the needy, offer scholarships and educate the needy children in the communities from whose parents the monies were collected.
Earlier, Pr Ssemanda was arraigned before Buganda Road Chief Magistrate's Court on two separate case files after he was arrested in a joint operation led by the head of State House Anti-Corruption Unit, Lt Col Edith Nakalema, and the police at Mutukula border with Tanzania while fleeing Uganda.
Grade One Magistrate Joan Cate Acaa remanded Pr Ssemanda after he denied any wrongdoing on 16 accusations.
Must Read;
Uganda's Prosperity Female Prophetess (Nabbi omukazi) Maggie Kayima's Occult connection exposed
http://watchmanafrica.blogspot.com/2010/06/ugandas-prosperity-female-prophetess.html
Ugandan Celebrity Prophetess, Maggie Kayima quizzed by police over necromancy song
http://watchmanafrica.blogspot.com/2013/03/ugandan-celebrity-prophetess-maggie.html
Uganda's Occult Prosperity Female Prophetess Maggie Kayima a.ka. (Nabbi omukazi) to fast for 40 days pleading to God to restore a split popular secular band. She has promised that After the fast the band members are going to get back under their former name eagles productions.
When Uganda's false pastors defend a dead occultist : False Prophetess Mary Kaizire and False pastors Franklin Mondo Mugisha and Aloysius Bugingo attack Pastor Jackson Senyonga for saying the truth about dead Occultist Augustine Yiga
https://watchmanafrica.blogspot.com/2020/10/when-ugandas-false-pastors-defend-dead.html
How I wish He had repented to avoid diving into HELL: Occultist Pastor Augustine Yiga of Revival Church in Kawala finally passes away after a long illness
Yiga faked miracles and infected many girls with Aids – Pastor Jackson Senyonga
Pastor Michael David Kyazze writes Bold poem to dead Pastor Yiga Augustine : To the sender you return: A blend of witchcraft & divine ?
https://watchmanafrica.blogspot.com/2020/10/pastor-michael-david-kyazze-writes-bold.html
Did Occultist Pastor Yiga Augustine espouse a catholic and Islamic mentality of prayers for the dead?? the deceased's lawyers, say his will indicates that his body should spend five days in the church to allow his followers to pray for him and celebrate his life
https://watchmanafrica.blogspot.com/2020/10/did-occultist-pastor-yiga-augustine.html
False Prophetesss Magie Kayima
I dated Pastor Yiga for 8 years, he was the best 'husband"- Nabbi Omukazi
https://nilepost.co.ug/2020/10/28/i-dated-pastor-yiga-for-8-years-he-was-the-best-husband-nabbi-omukazi/

Posted by

Kizitomg
at 05:33

While on my flight, all I was dreaming about was dogs. I got scared because spiritually; dreaming about dogs is not a very good thing. But that night, the dream came back about the dogs. That's when I realised that the dogs in the dream were an acronym for Days Of Glory. I also had a revelation about the woman in the Bible who came to Jesus for a miracle(see, Day of Atornment and Prayer for Uganda, on, https://www.newvision.co.ug/news/1527996/day-atonement-prayer-uganda ).
The DOG has returned to its vomit(2 Peter 2:22)
Give not that which is holy unto the dogs, neither cast your pearls before swine (Matt. 7:6)
Number 7 biblically means perfection or completion. 77 therefore means perfection times two
Dogs signify those who render the good of faith unclean through falsifications( E. Swedenborg (1688-1772)
Dogs have compassed me; the assemblages of evildoers have surrounded me, piercing my hands and my feet. Deliver my soul from the sword; and mine only one from the hand of the dog (Ps. 22:16, 20)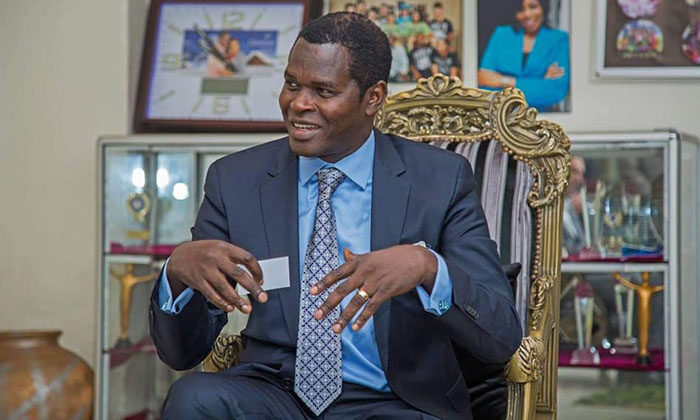 Founder and Senior Pastor of the Miracle Centre Cathedral Robert Kayanja. COURTESY PHOTO.
My analysis
The Dogs that Pastor Kayanja dreamed of do not symbolise DAYS OF GLORY but SIN, filthy, heatheness. Even young baby born again believers know that a dog is a picture of SIN. The devil has used the prosperity gospel that Pastor Kayanja subscribes to, to blind him about the Dogs that surround him. Pastor Robert Kayanja's Miracle Centre Cathedral (MCC)is indeed a place for DOGS. Sin is rarely talked about in Pastor Robert Kayanja's Church. All they preach about is prosperity and dominion theology. The dressing is so worldly and comprises damaged trousers, miniskirts and skimpy dresses. Pastor Robert Kayanja's church should be called the Dog Centre Cathedral (DCC). The church is infested with SODOMY among other dog paraphernalia. A dog is also a symbol of sex promiscuity, fornication and adultery. A dog is one of the few animals that can father ten puppies from three fathers. The dream that Pastor Robert Kayanja got is a simple one. Pastor Kayanja is indeed surrounded by dogs. The gospel he is propagating produces more dogs than sheep.
MUST READ
Exposing Pastor Robert Kayanja's satanic and Occultistic Nomenclatures : Meaning of 77 DOGS AND MAD company
https://watchmanafrica.blogspot.com/2020/12/exposing-pastor-robert-kayanjas-satanic.html
Pastors Robert and Jesicca Kayanja, Bro. Ronnie Makabai, Maama Fiina and The Katikkiro of Buganda Kingdom, Charles Peter Mayiga pay tribute to occultist Augustine Yiga
https://watchmanafrica.blogspot.com/2020/10/pastors-robert-and-jesicca-kayanja-bro.html
You can fool people but not GOD: Pastor Robert Kayanja's 77 D.O.G.S Revival and the Worship of the Golden Calf of Money, Materialism and Worldliness
http://watchmanafrica.blogspot.ug/2017/01/you-can-fool-people-but-not-god-pastor.html
77 DOGs: 250,000 souls have come to Christ in 4 years
https://www.ugchristiannews.com/77-dogs-250000-souls-have-come-to-christ-in-4-years/
November 28, 2020
Focus on the great commission - Pastor Kayanja.
---
Miracle Centre Cathedral – Rubaga reports that 250,000 people have responded to the call of salvation in Jesus Christ since the 77 Days Of Glory (DOGs) revival meeting started 4 years ago.
The lead pastor, Robert Kayanja explained during an interview with a state-linked news daily that this ongoing gospel meeting has also led to the baptism of 175,000 people.
Inaugurated in response to an instruction from the Holy Spirit in September 2016, Mr Kayanja said gangsters, prostitutes, politicians, drug addicts, murderers, celebrities, witches, are among the thousands transformed.
"We have had over 6,000 couples sanctify marriages, 250,000 people gave their lives to Christ and 175,000 got baptised," Pastor Kayanja said.
'Focus on the great commission'
Pastor Kayanja wrote in the Holy Spirit 77 Days of Glory series 6th book that the Church needs to focus on the great commission. He urged that in order to understand God, Christians need to understand His word.
According to the Pastor, many of God's people are living in confusion and still suffer from the "my church is better than yours- syndrome," instead of "focusing on following Jesus, the Author and Finisher of our faith."
"I have travelled and preached in over eighty countries, in numerous crusades, conferences and churches, but I have never walked to the pulpit and right away, began to call out the afflicted to be healed without ministering to them first in the Word of God. I know it is possible to do so but if one did that, there would be no difference between a preacher of the gospel and a magician. It is necessary that people are given the word of God as a basis for their faith," he wrote.
When one studies God's word, Mr Kayanja says that they easily get to know Him and His will.
"Many people want to know God through His power or His works, but then forget that the most fundamental thing that started the whole creation was the word of God. The word was with God and the word was God (John 1:1), so when you get the word of God, the will of God will be revealed in your heart."
"The church ought to know better. We should stop the pettiness of denominational strife and instead focus on the great commission of going into the whole world and preaching the gospel to every creature," he wrote.
Spiritual Meaning of Dog
http://www.biblemeanings.info/Words/Animal/Dog1.htm
The reason why dogs signify those who render the good of faith unclean through falsifications, is that dogs eat unclean things, and also bark at men and bite them. From this also it was that the nations outside the church who were in falsities from evil, were called dogs by the Jews, and were accounted most vile. That they were called dogs is manifest from the Lord's words to the Greek woman, the Syrophenician, whose daughter was grievously troubled with a demon:--
It is not good to take the children's bread, and cast it to the dogs. But she said, Certainly, Lord; but even the dogs eat of the crumbs which fall from their master's table (Matt. 15:26, 27; Mark 7:27, 28);
that dogs here signify those who were outside the church, and children those who were within the church, is plain.
[3] In like manner in Luke:--
There was a certain rich man who was clothed in purple and fine linen, and lived in good cheer and splendor every day. But there was a poor man named Lazarus, who was cast at his door, full of sores, and desiring to be filled with the crumbs that fell from the rich man's table; yet even the dogs came, and licked his sores (Luke 16:19-21);
by "the rich man clothed in purple and fine linen¯ are signified those who are within the church; the purple and fine linen with which he was clothed denoting the knowledges of good and truth from the Word; by the poor man are signified those within the church who are in but little good by reason of their ignorance of truth, and yet long to be instructed (AC 9209); that he was called Lazarus was from the Lazarus who was raised by the Lord, of whom it is said that the Lord loved him" (John 11:1-3, 5, 36), that he was the Lord's friend (John 11:11), and that he reclined at table with the Lord (John 12:2); his desiring to be filled with the crumbs that fell from the rich man's table signified his longing to learn a few truths from those within the church who had abundance of them; the dogs which licked his sores denote those outside the church who are in good, although not in the genuine good of faith; licking sores denotes healing them by such means as are within their power.
[4] In John:--Without are dogs, sorcerers, and whoremongers (Rev. 22:15); dogs, sorcerers, and whoremongers denote those who falsify the good and truth of faith, and who are said to be without, because they are outside heaven, or the church. That good falsified, and thus made unclean, is signified by dogs, is also evident in Matthew:--
Give not that which is holy unto the dogs, neither cast your pearls before swine (Matt. 7:6).
In Moses:--
Thou shalt not bring the hire of a harlot, or the price of a dog, into the house of Jehovah, for any vow; for both these are an abomination unto thy God (Deut. 23:18);
the hire of a harlot denotes falsified truths of faith. That whoredom denotes the falsification of the truth of faith, (AC 2466, 2729, 4865, 8904).
[5] In David:--
Dogs have compassed me; the assemblages of evildoers have surrounded me, piercing my hands and my feet. Deliver my soul from the sword; and mine only one from the hand of the dog (Ps. 22:16, 20);
dogs here denote those who destroy the goods of faith, and who are therefore called the assemblages of evil-doers; to deliver the soul from the sword denotes from the falsity that lays waste the truth of faith. That a sword denotes falsity laying waste the truth of faith, (AC 2799, 4499, 6353, 7102, 8294); and the soul, the life of faith, (AC 9050). From this also it is evident that delivering the only one from the hand of the dog denotes to deliver from the falsity that lays waste the good of faith. That some were to be carried off and eaten by dogs (1 Kings 14:11; 16:4; 21:23, 24; 2 Kings 9:10, 36; Jer. 15:3), signified that they would perish by unclean things. That some compared themselves to dead dogs (1 Sam. 24:14; 2 Sam. 3:8; 9:8; 16:9), signified that they were to be accounted as utterly worthless, and as such were to be cast out. What is further signified by dogs may be seen above (AC 7784).
from AC 9231
Back to Words index, Back to Animal words index
Design
: I.J. Thompson, Feb 2002.
| | |
| --- | --- |
| Author: E. Swedenborg (1688-1772). | |
You have been feeding your congregation, how have you managed? Every man of God must have the ability to multiply that which God has given him. Not only for himself but also for the ministry. Feeding the congregation is part of the ministry.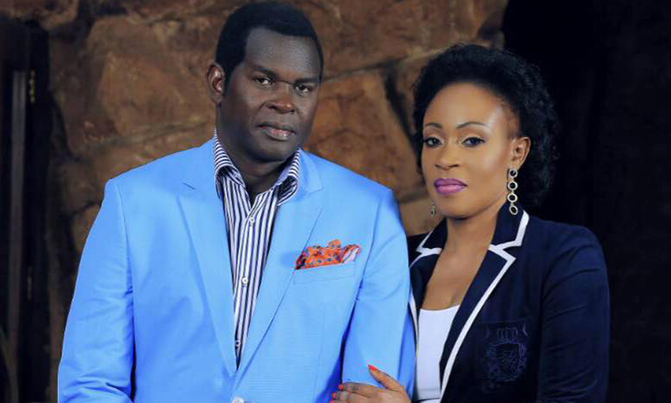 Pastors Robert and Jessica Kayanja of Rubaga Miracle Centre Cathedral have been
inspired by God to conduct a national prayer day which will be broadcast live on Bukedde TV, Urban TV, TV West, Radio West, Bukedde FM, Radio West, Etop FM, Rupiny FM, and the New Vision Facebook page, for two hours starting 11:00 am-1:00 pm.
The prayers have been carried under the theme: 2 Chronicles, 7: 14, "If my people, who are called by my name, will humble themselves and pray and seek my face and turn from their wicked ways, then I will hear from heaven, and I will forgive their sin and will heal their land.
In Hebrew, number four is called dalet and it means: 'you are of'. When we began, it was just 77 days of praying. On the last day, people resoundingly refused to go.
I begged them to go home on the assurance that we would continue with the revival the following day.
The following year, President Yoweri Museveni also attended. We had ambassadors and over 150 nations have been here. We had covered the entire nation by the time COVID-19 struck.
If we had known about coronavirus, we would have used these four years to help people grow more food and save more money to prepare for these hard times. I always preach about biblical economics, but I didn't know that we would have a coronavirus problem that would last long.
How much were you affected by the lockdown? Every ministry has been affected. I remember last September and October, the President toured the country telling people to grow food. Well, while that was his work, I think he was also being driven by a greater vision.
The citrus he talked about is now a prime source of Pastor Robert Kayanja and his wife Jessica celebrating their 25 years in marriage in 2018 Vitamin C that we need to fight coronavirus.
Maybe that is the reason we have not suffered primarily like other nations. What would become of us if we had refused to grow food and kept animals instead?
How would we have been able to run the bucket project if there was no congregation to give offertory? Would we have been relevant in society and for the kingdom of God?
What were the benefits of the 77 DOGs? We have had over 6,000 couples sanctify marriages, 250,000 people gave their lives to Christ and 175,000 got baptised.
People from all walks of life have come to Jesus. For me, victory belongs to Jesus. The 77 DOGs opened my eyes: the majority of our people are saved but are living in the sin of unsanctified marriages because of the cost of weddings.
It is prohibitive and yet, what these people want to do is of God. The sacraments of God are not for sale.
However, somehow, the church started charging people for weddings. That is why we began the mass weddings. We started with nine couples; they grew to 200 and now we are in thousands.
Isn't that wonderful? We got people off drugs, so many young people are on drugs. Actually, drug addiction is a pandemic in this country, but we do not even have facilities to rehabilitate them.
I fear we might lose an entire generation. In my 30 years of ministry, I had never seen people give out beds, cars, houses and land titles to the needy.
The spirit of giving was so alive and you cannot give without caring. We ran rackets of clothes and, to date, we still have a store full of them.
The revival opened our eyes to the plight of people and our ministry is going to be more about helping people overcome their livelihood challenges now that the Government has allowed churches to operate.
Won't that be fronting material benefits before Christian life? In the beginning, one of the first things God did for man was to give him a garden.
Every child of God needs a garden. God wants us to depend on Him for guidance so that we can be independent in such a way that improves our lives.
In the story of the prodigal son, the boy asks for capital to invest, but the father just gives him money without preparing him economically on how to replenish the earth with it.
That is why he squandered it. If we do not prepare young people well, they will lose character and the wrong people will exploit them. Jesus teaches three things; the spirit, the mind, and the body. If the spirit is not right, then the mind will not be right.
If the mind is not right, the body will not be right. Every home must have an economic ability for a startup.
So, before we even ask the Government to help the youth, the families must be innovative enough to support the children on their way to beginning their own lives. In the story of the prodigal son, food is what brought him back.
So, both at the family and national levels, we must deal with the issue of food, just like we do with security. We need to invest in agriculture because that will give security to families and dignity to our people.
Development of the spiritual, mental, and physical capabilities attracts money and possessions because they are just rewards of work. But you cannot build on money and material wealth because they quickly lose value.
In the parable of the prodigal son, Jesus shows that the world can throw money at you but if you aren't mentally, spiritually, and physically developed, you will squander it in a blink of an eye. So personal development is much more than just money.
How then will the revival assembly be relevant in addressing social challenges such as corruption? The problem of corruption is mental, physical, and spiritual. That's why we need to attack it from a spiritual point of view.
If Christians are the majority in a country like Uganda, which ranks amongst the most corrupt, then we do not only blame the government; there is something wrong with the church as well. It is the church to fix this because corruption is spiritual but just manifests itself in a physical form.
I also challenge the Government that every time we gather on national occasions, we should have a preacher speaking against corruption.
You have been feeding your congregation, how have you managed? Every man of God must have the ability to multiply that which God has given him. Not only for himself but also for the ministry. Feeding the congregation is part of the ministry.
I do it to represent Jesus Christ and make the Gospel relevant. In all our revival assemblies, the emphasis was a mass mobilisation of people to pray, that's why we deployed all our resources and, indeed, people turned up.
Even when the congregation is not here, we should care for it. Jesus said in John 12:32: "And I if I be lifted up from the earth, will draw all men unto me." Lifting Christ up is my job.

HOW DID YOU COME UP WITh THE 77DOGS?
It was unprecedented. We were doing crusades across the country. We would also host the district leadership and challenge them on anti-corruption and development.
The last one was a game-changer because it was not on the programme.
We were going to Adjumani, then the Lord directed us to change course and go to Kyankwanzi. When we reached there, there was nothing to use, so we started questioning whether we had heard from God or not.
But we decided to go anyway, fully aware that this was a place for pastoralism and so there would be few people. People showed up in great numbers!
On Sunday, the Spirit of the Lord told me to cancel the district leadership meeting and return to Miracle Centre, so I just recorded the programme and left it to them.
On September 18, the Lord told me we were going to start the 77 Days of Glory. I thought it was just 77 days of prayer and I announced that it would take place every evening. Around that time, I went to the US to see my son during his school break.
While on my flight, all I was dreaming about was dogs. I got scared because spiritually; dreaming about dogs is not a very good thing.
But God played for me Todd Dulaney's Victory Belongs to Jesus. A voice told me that should be the theme song for the 77 Days of Glory.
But that night, the dream came back about the dogs. That's when I realised that the dogs in the dream were an acronym for Days Of Glory. I also had a revelation about the woman in the Bible who came to Jesus for a miracle.
Jesus told her:" I cannot give the children's bread to the dogs." She replied: "But the dog sits underneath the table of the master and that's where they get their bread."
I realized that the 77 Days of Glory was going to be a revival of humility and sitting at the feet of the master's table so that we can be fed the Word of God.
The scripture also talks about Gideon who had reduced his army from 30,000 to 10,000 but God told him to take them down to the water to separate those who drink water like dogs from those who kneel down to drink.
God told him that with the 300 men that lapped like dogs, he would give Gideon victory, so I realised that it is going to be a revival of faith, humility, tenacity and drinking the Holy Spirit.
On September 18, it was only about 300 people and yet our Sunday morning services are always full. God had promised that people would come from all walks of life, but I preached for an entire week with a minimal congregation until the Lord told me to broadcast, which changed everything the following day.
Posted by

Kizitomg
at 00:28