US threatens to cut aid to Uganda over new Anti-Homosexuality law
https://observer.ug/news/headlines/77966-us-threatens-to-cut-aid-to-uganda-over-new-anti-homosexuality-law
Written by

URN
US President Joe Biden has threatened to cut aid totaling up to $1 billion per year after Uganda President Yoweri Museveni assented to the Anti-Homosexuality Bill, 2023. The new law calls for up to 20 years in prison for promoting homosexuality and life imprisonment for anyone convicted of homosexuality.
The law also imposes the death penalty for what it calls "aggravated homosexuality." This includes having sex with people categorized as vulnerable, including the elderly and children.
Also, any Ugandan who does not report such cases is liable on conviction to spend five years in prison or pay a fine of Shs 10 million. Journalists and other media figures, on the other hand, face five years in prison if they disclose the identity of a victim of a homosexual act without the authority of the court or that person.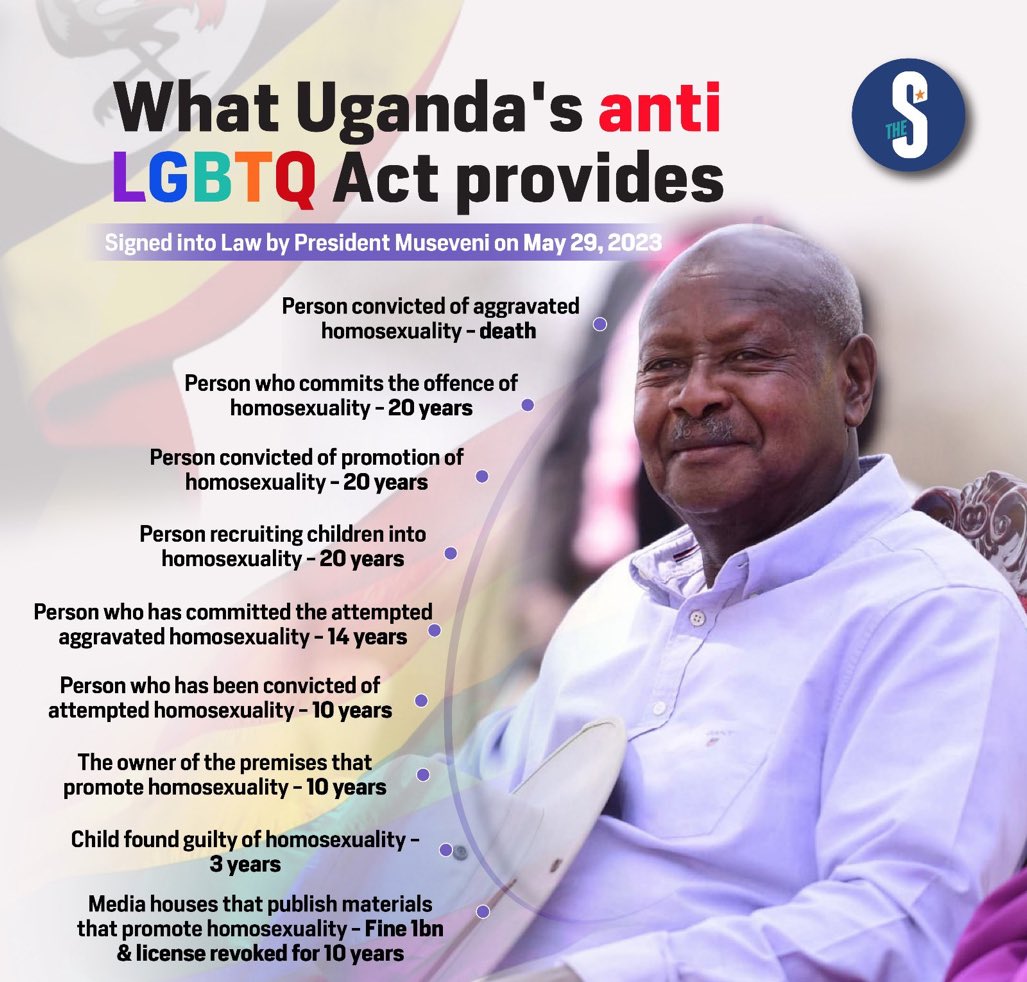 Below is Biden's full statement
The enactment of Uganda's Anti-Homosexuality Act is a tragic violation of universal human rights—one that is not worthy of the Ugandan people, and one that jeopardizes the prospects of critical economic growth for the entire country.
I join with people around the world—including many in Uganda—in calling for its immediate repeal. No one should have to live in constant fear for their life or being subjected to violence and discrimination. It is wrong.
Since the Anti-Homosexuality Act was introduced, reports of violence and discrimination targeting Ugandans who are or are perceived to be LGBTQI+ are on the rise.
Innocent Ugandans now fear going to hospitals, clinics, or other establishments to receive life-saving medical care lest they be targeted by hateful reprisals. Some have been evicted from their homes or fired from their jobs. And the prospect of graver threats—including lengthy prison sentences, violence, abuse—threatens any number of Ugandans who want nothing more than to live their lives in safety and freedom.
This shameful Act is the latest development in an alarming trend of human rights abuses and corruption in Uganda. The dangers posed by this democratic backsliding are a threat to everyone residing in Uganda, including US government personnel, the staff of our implementing partners, tourists, members of the business community, and others.
As such, I have directed my National Security Council to evaluate the implications of this law on all aspects of U.S. engagement with Uganda, including our ability to safely deliver services under the U.S. President's Emergency Plan for AIDS Relief (PEPFAR) and other forms of assistance and investments.
My Administration will also incorporate the impacts of the law into our review of Uganda's eligibility for the African Growth and Opportunity Act (AGOA). And we are considering additional steps, including the application of sanctions and restriction of entry into the United States against anyone involved in serious human rights abuses or corruption.
The United States shares a deep and committed partnership with the people of Uganda. For more than 60 years, we have worked together to help millions of Ugandans live healthier, more productive lives.
Our programs have boosted economic growth and agricultural productivity, increased investments in Ugandan businesses, and strengthened our trade cooperation. In total, the US Government invests nearly $1 billion annually in Uganda's people, business, institutions, and military to advance our common agenda.
The scale of our commitments speaks to the value we place on this partnership—and our faith in the people of Uganda to build for themselves a better future. It is my sincere hope that we can continue to build on this progress, together, and strengthen protections for the human rights of people everywhere.
Activists petition court to nullify newly signed anti-homosexuality law
https://observer.ug/news/headlines/77970-activists-petition-court-to-nullify-newly-signed-anti-homosexuality-law
Written by

URN
A group of 11 activists has petitioned the Constitutional court challenging the new anti-homosexuality law just hours after it was signed by President Yoweri Museveni.
The petitioners include Prof Sylvia Tamale, Fox Odoi Oywelowo (West Budama County MP), Dr Busingye Kabumba, a lecturer of Law at Makerere University, Andrew Mwenda, the proprietor of the Independent News Magazine, Solome Nakaweesi Kimbugwe, a Pan Africanist feminist and activist and Dr Frank Mugisha, coordinator of Sexual Minorities Uganda (SMUG).

Others are; Kasha Jacqueline Nabagesera, former executive director of Freedom and Roam Uganda (FARUG), Richard Smith Luthimbo, the executive director of Uganda Key Populations Consortium (UKPC), Eric Ndawula, a human rights activist and Williams Apako, the executive director of Tranz Network Uganda and Human Rights Awareness and Promotion Forum (HPRAF) headed by lawyer Adrian Jjuuko.
The law imposes capital punishments on same-sex relations including life imprisonment and death sentence. The law which is largely targeting lesbian, gay, bisexual, transgender and queer people also criminalizes the behaviour including having gay sex when HIV-positive, and stipulates a 20-year sentence for "promoting" homosexuality.

In their petition filed yesterday Monday, the petitioners through their lawyers led by Dr Adrian Jjuuko said that they are challenging the new law for falling short of the required procedure by failing to include public voices and participation.

"The act was passed without adequate and meaningful public participation. When they are making laws, the public really has to be involved especially the people who are concerned. But we saw during the hearings of the committee and during when the discussions that not even a single LGBT person was basically before the committee to have their views heard and [yet] this is the law that affects them directly. We're also challenging the law because during the 2nd and 3rd readings on March 21st and May 7th of 2023, the speaker's conduct clearly showed bias. The speaker clearly made statements that showed that she was in favour of passing this law and yet the speaker is supposed to be basically impartial when handling parliamentary sessions," said Jjuuko.

They argue that the enactment of the Anti-homosexuality Act 2023 by the 11th parliament on May 2nd 2023 without meaningful and adequate public participation is unconstitutional and contrary to the national objectives and principles of state policy enshrined in the Constitution.

They further contend that by making it an offence for any person to allow or lease or sublease premises to be used for purposes of homosexuality or activities that encourage homosexuality is inconsistent and in contravention of the principle of legality. Further, they argue that criminalizing consensual same-sex sexual activity among adults in private contravenes the right to equality and non-discrimination, right to dignity, right to liberty, and the right to privacy.

The petitioners further contend that sections 11(1) and 2(b) of the Anti-Homosexuality Act 2023 by criminalizing the publication, communication or distribution of any material that promotes or encourages homosexuality is in contravention of the principle of legality, freedoms of speech and expression, freedoms of thought, conscience and belief including academic freedom, the right to impart and access and receive information.

Also, that section 12 of the Anti-Homosexuality Act by prohibiting and disqualifying persons convicted of an offence of homosexuality from employment is in contravention of the right to practice one's profession or carry on lawful trade, right to equality and nondiscrimination.

The petitioners now want the entire act nullified for having been passed and enacted in breach of parliamentary procedure and in the alternative some of the sections complained of also declared null and avoid.

They are also seeking a permanent injunction restraining the attorney general who has been listed as the only respondent to the case and any of the government agents from implementing provisions of the act.

The attorney general is yet to be summoned to file his defense before this petition can be heard by the panel of five Constitutional court justices.

In 2014, the Constitutional court struck down the previous anti-homosexuality law on procedural grounds after finding that the parliament had passed it without the required quorum.

Prior to the nullification, some Western governments had suspended some aid, imposed visa restrictions and curtailed security cooperation with the Museveni-led government.
Museveni finally assents to Anti-Homosexuality Bill, 2023
https://observer.ug/news/headlines/77963-museveni-finally-assents-to-anti-homosexuality-bill-2023
Written by

URN
President, Yoweri Kaguta Museveni has finally signed into law the Anti-Homosexuality Bill, 2023.

The Anti-Homosexuality Act, a highly contentious piece of legislation, has been a subject of intense discussion and lobbying both within and outside Uganda. Last month, Museveni returned the bill for review, especially in regard to clear definition between homosexuality and acts of homosexuality.

Museveni said it was wrong for the original bill to punish a homosexual or reformed homosexual who wasn't involved in the promotion or acts of homosexuality.

The new Act doesn't criminalise anyone who identifies as homosexual, but mandates life in prison for anyone who engages in homosexual acts, up to 20 years for promoting homosexuality, and a three-year sentence for children convicted of homosexuality while certain acts of gay sex could warrant the death penalty.

The speaker of parliament, Anita Among took to Twitter to express gratitude for the president's resolute action.

"I thank His Excellency, the president, for his steadfast action in the interest of Uganda," Among said.

She noted that the parliament believes that the law safeguards the sanctity of the family, in accordance with Article 31 of the Ugandan Constitution. Additionally, she stated that the legislation aligns with the cultural values and aspirations of the Ugandan people, as outlined in objectives 19 and 24 of the national objectives and directive principles of state policy.

She further commended the MPs for standing strong against external pressure and criticisms, attributing their resilience to the commitment to upholding Uganda's motto, "For God and our Country."

"I now encourage the duty bearers under the law to execute the mandate bestowed upon them in the Anti-Homosexuality Act. The people of Uganda have spoken, and it is your duty to now enforce the law in a fair, steadfast, and firm manner," she said.

The enactment of the Anti-Homosexuality Act triggered widespread international reactions, with human rights organizations and advocacy groups expressing concern over its potential impact on the rights and freedoms of the LGBTQ+ community. The law has faced criticism for its potential to promote discrimination and persecution.