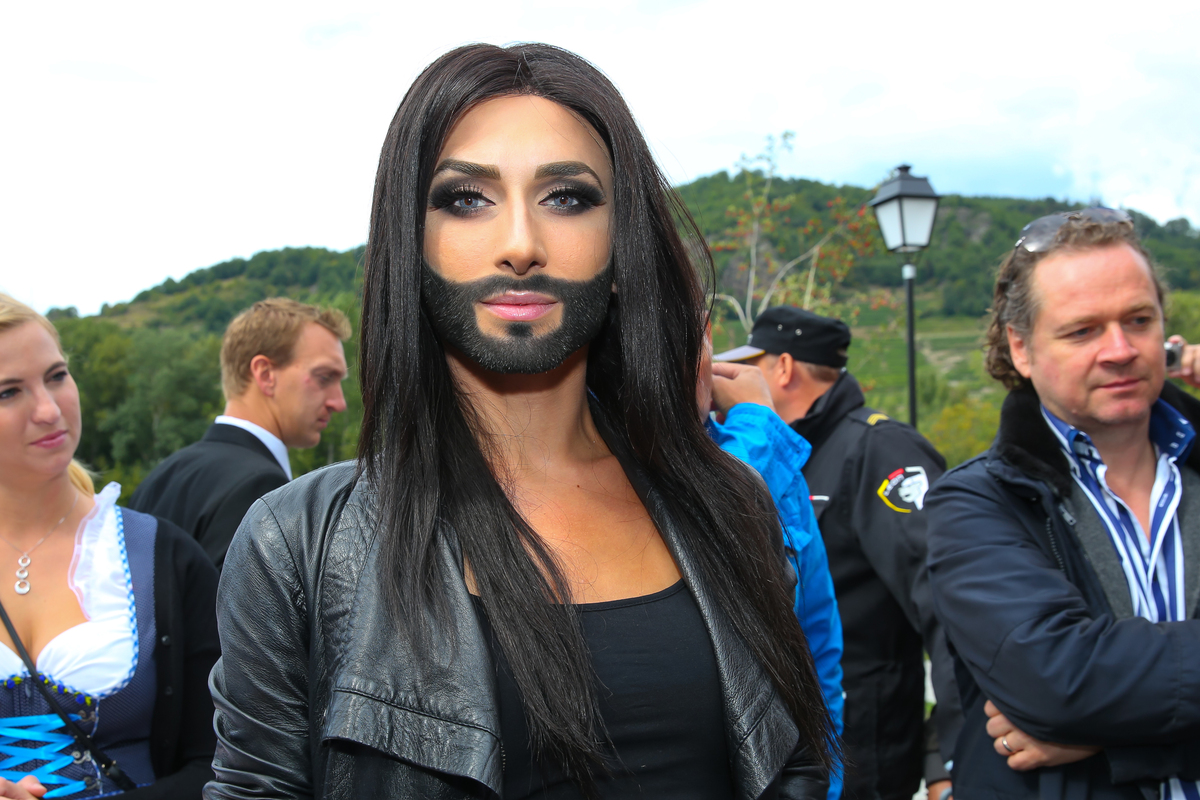 The perverts will rule Europe
Drag artist (25) gave a clear message to Russian President, Vladimir Putin, at the press conference after the victory: We are unstoppable.
In this year's Eurovision final thrust Austria's finalist, drag artist Conchita Wurst (25), with the win after delivered a tremendous show.
Source: Norwegian Dagbladet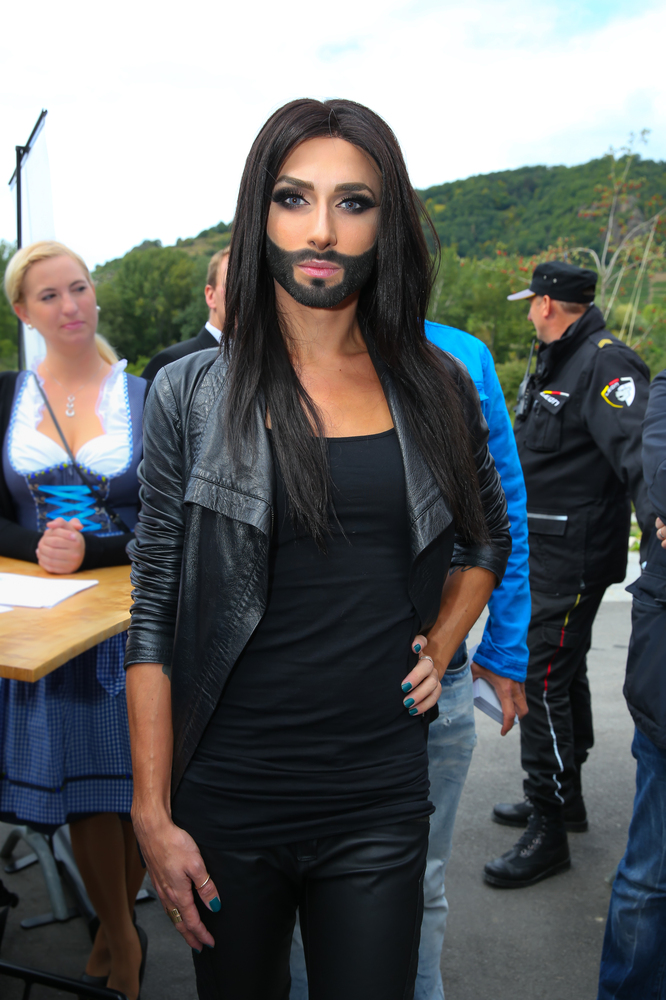 My comment:
After seeing perversion and sodomy being honored in the European Song Contest, we have to give Vladimir Putin some credit. It is true that Europe is falling into a deep pit, and our youth being degenerated at a catastrophic speed. The Sodom and Gomorrah generation is raising from Dublin in the West to Kiev in the East.
Norway in particular is hailing the perverted society and culture. Even the Christianity Peoples Party (Kr.F) is establishing its own gay-network.
Luke 17:26-30
'Just as it was in the days of Noah, so also will it be in the days of the Son of Man. People were eating, drinking, marrying and being given in marriage up to the day Noah entered the ark. Then the flood came and destroyed them all.
'It was the same in the days of Lot. People were eating and drinking, buying and selling, planting and building.But the day Lot left Sodom, fire and sulphur rained down from heaven and destroyed them all.
'It will be just like this on the day the Son of Man is revealed.
When a gay and trans activist is lifted up as a "hero" in post-Christian Europe, the Norwegian media take the opportunity to send a message to Putin. The message to Russia is, we are not stoppable. "We are coming". No doubt that the Russians do not want to be a part of this uprising, but have asked the Russian President to secure them from this kind of bastardization.
Jude 1:7
In a similar way, Sodom and Gomorrah and the surrounding towns gave themselves up to sexual immorality and perversion. They serve as an example of those who suffer the punishment of eternal fire.
Jesus the Messiah
has warned all of us advance. You can find his warnings, if you read the Bible. The horrible acts and perversion of Sodoma and Gomorrah will be repeated just before His second coming.
When all spirit filled Christians see this, we must not loose our courage, but rather rejoice. Go out and tell everyone that they can still escape the lake of fire, if they are willing to repent.
Eternal disgrace is awaiting all Christian leaders who remain silent. We do not need more lukewarm cowards to lead the flock towards the gates of destruction.
Written by
Ivar
Eurovision 2014: Austria's 'bearded lady' Conchita Wurst lauded at home, condemned in Russia
Updated
Austrian Conchita Wurst has arrived home to a heroine's welcome after the bearded drag queen won the Eurovision Song Contest in what she called a victory over the forces of intolerance.
Sporting high heels, butterfly eyelashes and a full beard, Wurst - whose birth name is Tom Neuwirth - swept to victory with her Rise Like a Phoenix ballad before a global television audience of about 180 million people in 45 countries.
"I share the opinion that this was not a victory just for me but for the people who believe in a future that works without discrimination and is based on tolerance and respect. This transcends borders," the 25-year-old "queen of Europe" said.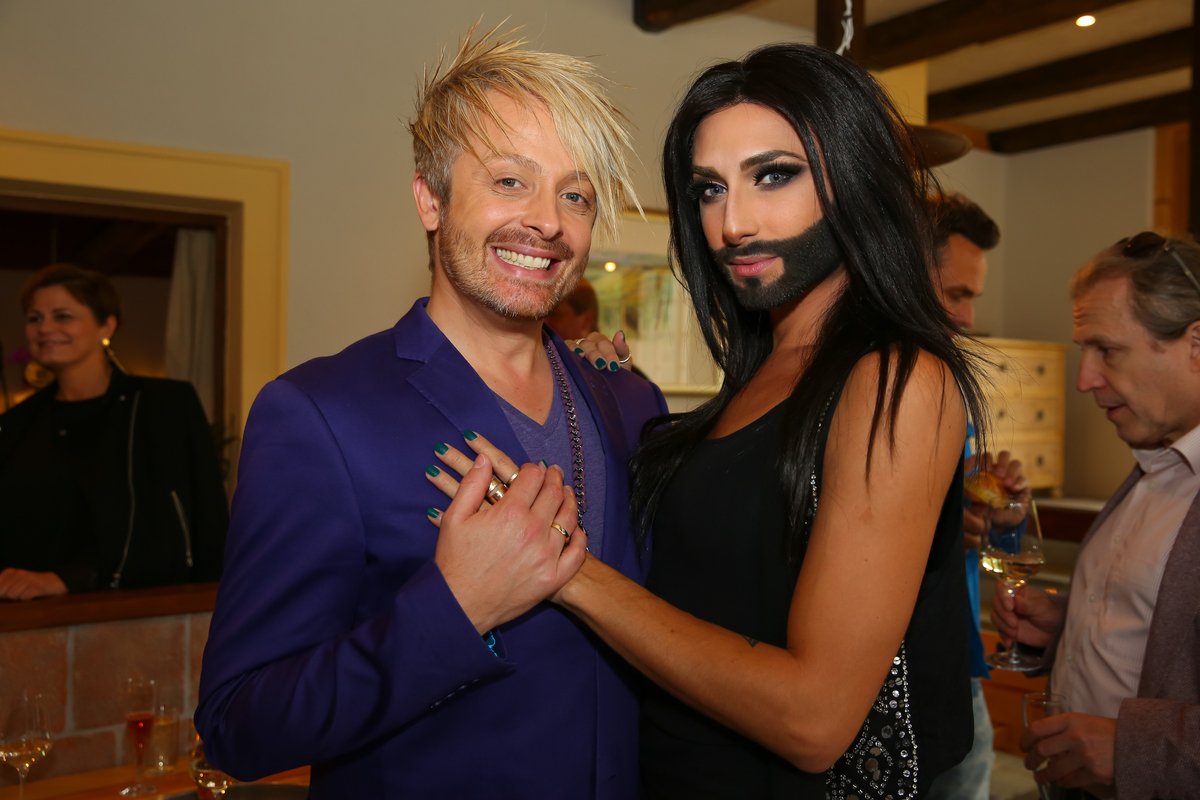 The Danish organisers had declared tolerance a main theme for this year's event, and the rainbow-coloured flag symbolising gay pride flew in many places in Copenhagen over the past week.
Visibly moved by her triumph, the openly gay Wurst told the enthusiastic crowd in Copenhagen that the movement she had come to symbolise was "unstoppable".
"This was of course directed against some politicians that we know and I just wanted to tell them that in the end good always wins and is unstoppable," she told reporters on Sunday.
Asked if she was referring specifically to Russian president Vladimir Putin, given Russian campaigns against promoting homosexuality to young people, she said: "Among others".
But she noted that she won votes from Russia as well, which showed not all Russians were intolerant.
Austrian media have generally celebrated Wurst's budding career, but many in the largely conservative, Roman Catholic country have had mixed feelings about her rise to fame.
An online poll for the populist Krone tabloid found just 23 per cent of respondents were proud of the singer whose journey from a rural boyhood to hirsute drag queen has gripped the nation.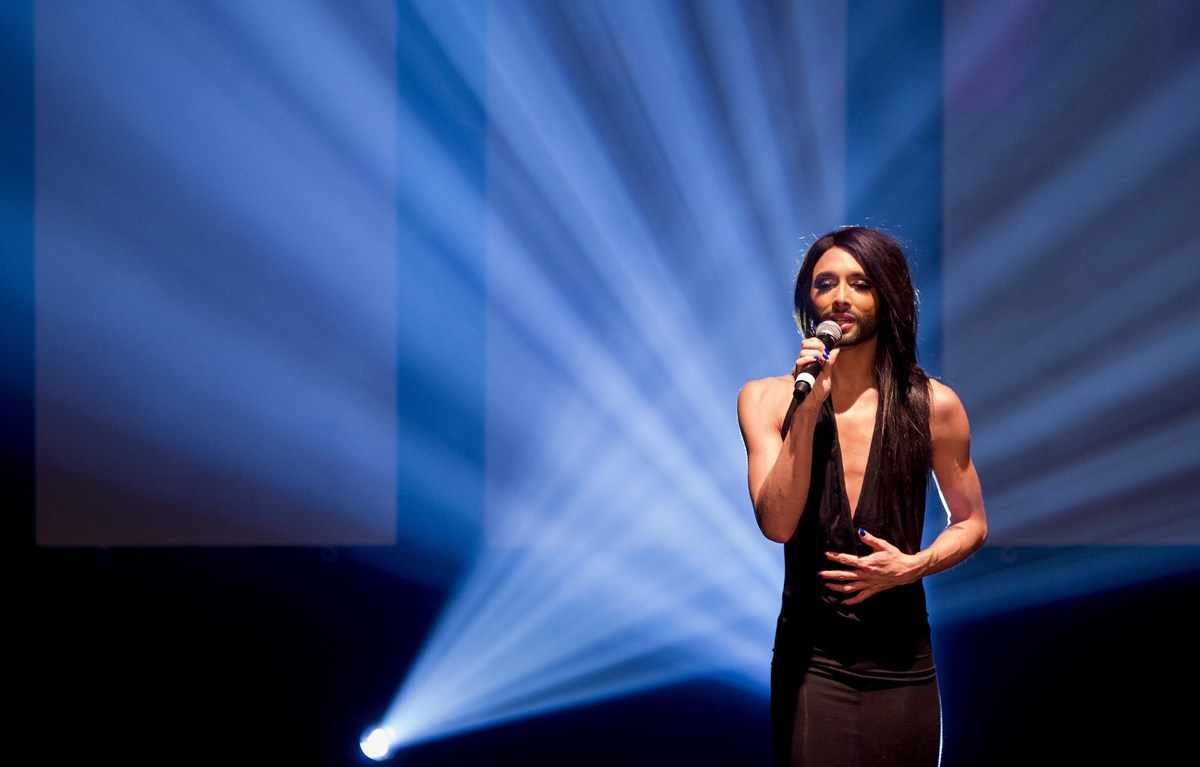 'Bearded girl' causes controversy in eastern Europe
Reaction to Wurst's appearance highlighted Europe's geographical divide on attitudes to homosexuality.
Largely accepted without controversy in the West, it prompted criticism by some in the East where anti-gay rhetoric remains more common.
Wurst's victory prompted an outpouring of anti-gay anger from Russian politicians and stars with deputy prime minister Dmitry Rogozin tweeting that the result "showed supporters of European integration their European future: a bearded girl".
Nationalist politician Vladimir Zhirinovsky told Rossiya-1 state television: "There's no limit to our outrage. It's the end of Europe. It has turned wild. They don't have men and women any more. They have 'it'.
"Fifty years ago the Soviet army occupied Austria. We made a mistake in freeing Austria. We should have stayed."
Russia gave Austria five points - one more than it awarded Ukraine as the ex-Soviet neighbours are locked in a deadly crisis. Russia's entry, the Tolmachevy Sisters, came seventh.
Last year Russia adopted a controversial law banning the "propaganda" of homosexuality to minors, prompting condemnation from Western leaders and rights activists. Russia has also banned adoption of Russian children by foreign gay couples.
Popular Russian hip-hop star Timati wrote on his Instagram account that Wurst's victory was the result of a "mental illness of contemporary society".
"I wouldn't like one fine day to have to explain to my child why two guys are kissing or a woman is walking round with a dyed beard and that's supposed to be normal," he said.
But Ukrainian drag act Verka Serduchka, who came second at Eurovision in 2007, strongly backed Wurst.
There's no limit to our outrage. It's the end of Europe. It has turned wild. They don't have men and women any more. They have 'it'.

Russian politician Vladimir Zhirinovsky
"To be honest, at the start it did shock me a bit, but when I saw it, I thought: why not? A person wants to express himself," Andriy Danilko, who performs as Serduchka, said.
"We need to be more compassionate. I hate when people are bullied.
"She is kind. Don't be mean to her. She is an eccentric. An eccentric with a beard."
Flamboyant pop star Filipp Kirkorov, producer of Russia's Eurovision entry this year, even suggested Wurst's victory should make Russians reconsider homophobic views.
"Maybe this is a kind of protest against some of our views in Russia. Maybe we should have a think. Maybe we shouldn't have such a categorical attitude to people of different sexual orientations," he told Rossiya-1 television.
"In a way it probably is a challenge from Europe to us, but let's respect the winner. People don't judge a winner."
Online petitions emerged in Belarus, Armenia and Russia - whose government passed a law last year banning "gay propaganda" among minors - to have Wurst removed or edited out of broadcasts in their countries.
Eurovision 2014: Austria's bearded drag queen Conchita Wurst takes out song contest
Updated
Austrian drag queen Conchita Wurst, popularly known as "the bearded lady", has taken out the Eurovision Song Contest with the James Bond-theme-like ballad Rise Like a Phoenix.
The 25-year-old performer, whose real name is Tom Neuwirth, took the Eurovision crown in Copenhagen despite initial expectations that the eye-catching performance would be too controversial in socially conservative countries.
The Eurovision final was watched live by around 180 million people in 45 countries, and will air on Australian television tonight.
The Austrian singer scored 290 points in the final, placing far ahead of her nearest competitor, the Netherlands, who came second with 238 points.
Half the points awarded in Eurovision are compiled through televoting and the other half come from professional juries in each country.
"We are unity, and we are unstoppable," Wurst said after winning the competition.
When asked what she would tell Russian president Vladimir Putin - who last year signed a law banning "gay propaganda" - Wurst replied; "I don't know if he's watching, but if so, I've made it clear, we're unstoppable".
The win was also a victory for all people who believe "in the future of peace and love and tolerance," Wurst said after the live broadcast, where she cried in front of the cameras.
"I said to myself, 'just this time, please, just let me be the one with the gold'."
Earlier, Wurst said her unusual look made headlines worldwide. Even in her native Austria the leader of the right-wing FPO party called Wurst's act "ridiculous".
"I have very thick skin. It never ceases to amaze me just how much fuss is made over a little facial hair," she said.
It was the first Eurovisoin win for Austria since 1966 when Udo Juergens won with the song Merci Cherie.
Since the contest was launched in 1956, voting has often been tied to politics and the 2014 event was no exception, with the audience jeering countries that announced giving points to Russia.
The 17-year-old Tolmachevy twins, who represented Russia, made it to the finals of the competition even after being booed in earlier rounds due to the friction over Russian's political action in Ukraine.
Despite the competition being limited to European contestants, Australian Jessica Mauboy performed on the Eurovision stage during the competition as a half-time act.
After her performance Mauboy said she was good friends with Wurst and picked her to be the winner.
"What's so amazing about her, about Eurovision, is that it allows you to be the artist that you are and take a bit of a risk," she said.