Pastor Kayanja Speaks out on Bomb attack
https://www.newvision.co.ug/category/news/pastor-kayanja-speaks-out-on-foiled-bomb-atta-NV_169227

Police detonates bomb at Miracle Centre Cathedral
https://nilepost.co.ug/2023/09/03/police-detonates-bomb-at-miracle-centre-cathedral/
By Adam Mayambala
Police have arrested a man suspected to have planted a bomb at the entrance of Miracle Centre Cathedral in Rubaga. The suspect has been identified as Abdulrahman Kintu (28).
Police detonated the bomb before tracking down and arresting the suspect.
The incident has been confirmed by Kampala Metropolitan police spokesperson Patrick Onyango
Onyango said the church, led by Pastor Robert Kayanja, had to be evacuated as soon as presence of the bomb was detected.
Police explosives experts detonated the bomb at the entrance of Miracle Centre Cathedral.
The church hosts hundreds of congregants every Sunday.
The incident comes on the heels of a warning by the British High Commission in July that Uganda was at risk of terror attacks. The British High Commission warned its nationals to avoid places that attract crowds like churches, bars, markets and taxi parks.
Police indefinitely suspend Bobi Wine country tours over traffic jam
https://observer.ug/news/headlines/79183-police-indefinitely-suspend-bobi-wine-country-tours
Written by

URN
In a move that will perhaps surprise no one accustomed to the country's political dynamics, Uganda Police Force has suspended the opposition National Unity Platform (NUP) party countrywide mobilisation tours.

In a strongly-worded and angry statement issued by the deputy Inspector General of Police, Maj Katsigazi Tumusiime on behalf of IGP, Martins Okoth Ochola, police claims, that NUP president Robert Kyagulanyi has breached guidelines that were earlier agreed upon ahead of the tours about 2 weeks ago.

"We are sending this strong message, that our country, Uganda, will not wait for its villages, towns, urban centres and cities to burn, before taking action to protect its citizens and property. We are going to put an end to the mob mentality, bullying and intimidation tactics of NUP radicals, against innocent civilians and law enforcers," said Katsigazi in a statement written in different fonts and sizes.

According to police, the mobilization activities especially in Kasana-Luweero district were "used to incite violence, promote sectarianism, make illegitimate calls for the removal of an elected, and issuance of defamatory statements against the person of HE The President of the Republic of Uganda."

While in Luweero, Kyagulanyi challenged the locals to take responsibility and unseat President Museveni's government after all they were responsible for bringing the NRA/M to power which he accused of impoverishing Ugandans in the last 40 years. Museveni began his protracted 5-year bush war in Luweero before assuming power in 1986.

Kyagulanyi also questioned the alleged tribalism and nepotism being practiced by the NRM government against the general populace. He also said he had received intelligence that the state was out to assassinate him, but called on the people to avenge his death if it were to happen.

Kyagulanyi began his tours in Mbarara in western Uganda where mammoth crowds gathered to listen to him. He then moved to eastern and northern Uganda where even more crowds gathered and brought business to a standstill.

Except for the occasional blockade by security from accessing community and local radio stations, the tours have been generally free of any violence or chaos but the growing crowds have apparently rubbed the ruling government the wrong way. Many NRM supporters called on government to put a stop to the tours. Amidst the recent bomb scare, the army warned that Kyagulanyi's rallies were susceptible to terror attacks.

"While we completely support the right of individuals, groups and other citizens to peacefully gather or assemble, and make their views on matters of public policy, we have noticed that, in all areas where the NUP mobilization activities have been carried out, there have been total breaches to the guidelines, thus causing public disorder, unnecessary traffic jams, loss of business, malicious damage to property, for instance in Mbarara city, their rowdy supporters vandalised a Toyota Hiance, under reg. no. UBD 251J and traffic accidents, including a fatal one in Hoima City on the 11.09.2023, where a one Mugisa Norman died and 10 others got serious injuries during the NUP convoy," said the police.

President Museveni's son, Gen Muhoozi Kainerugaba who has also expressed intention to stand for presidency in 2026 also carried out mobilisation tours across the country where with the help of police, several roads were closed off to allow his supporters to showcase their support.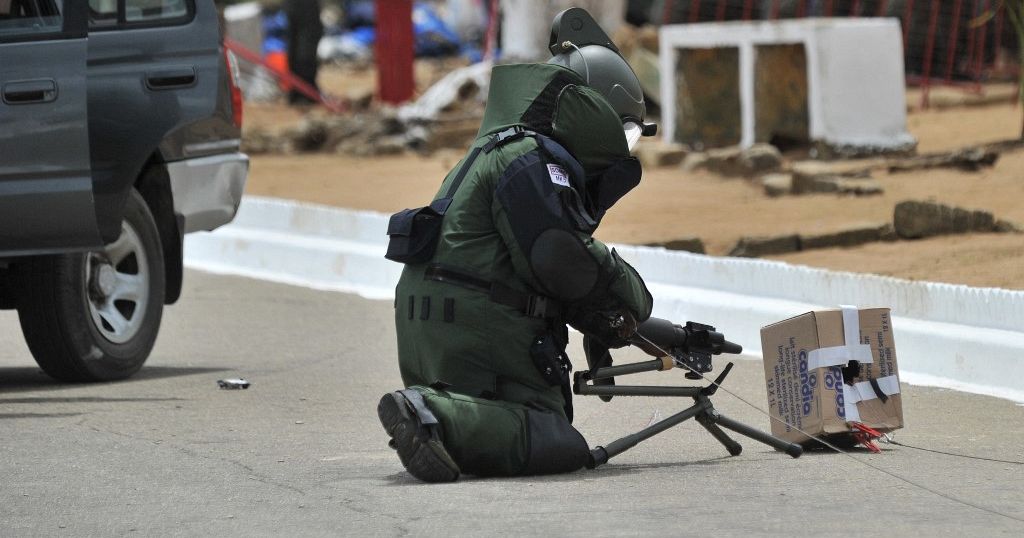 Questions greet latest bomb scares in crowded Kampala public spaces
https://www.theeastafrican.co.ke/tea/news/east-africa/questions-greet-latest-bomb-scares-in-uganda-4363370
Saturday September 09 2023
By JULIUS BARIGABA
Security agencies in Uganda are facing questions following reports that multiple terrorist attacks were planned in some of Kampala's most crowded locations. Police officers intercepted, recovered and detonated seven explosives in three separate operations last week and on Monday September 4, signaling foiled plans by terror merchants.
And the police, the Join Anti-terrorism Task Force and Chieftaincy of Military Intelligence have been praising the effectiveness of their intelligence gathering that has put them "a step ahead of the terrorists", leading to the arrest of a suspect that was allegedly part of the planning, bomb assembling and execution.
"We successfully detonated six bombs. It would have been a terrible situation if the bombs had gone off," said Brig-Gen Felix Kulayigye, spokesperson of Uganda Peoples Defence Forces.
Read: US cautions citizens visiting Uganda over terror threats
On Sunday September 3 at 11am, the joint police team of counter-terrorism, K9, crime intelligence unit as well as Territorial Police deployed at Miracle Centre church in Kampala intercepted and arrested a terrorist, disguised as a churchgoer.
The teams recovered an improvised explosive device (IED), at the main entrance of the popular church in Kayanja triangle zone, Lubaga parish, police spokesperson Fred Enanga said, adding that another three bombs assembled at a residence in the same division were discovered the next day.
Uganda detains man suspected of planning bomb attack on church
https://www.africanews.com/2023/09/04/uganda-detains-man-suspected-of-planning-bomb-attack-on-church//
Last updated:

04/09 - 12:45
Police in Uganda said on Sunday they had foiled a bomb attack on a cathedral in the capital Kampala and arrested the man suspected of trying to activate the explosive device among worshippers.
Hundreds of people were evacuated from the Rubaga Miracle Centre cathedral after the man tried to enter with an explosive device, said police spokesman Patrick Onyango.
"We carried out a controlled detonation of the improvised explosive device consisting of nails, a motorbike battery, a charger and a telephone handset that was to be used in the attack," he told reporters outside the cathedral.
He said police had tracked the 28-year-old after receiving a tip-off about a possible attack on a place of worship, and found a bomb in his rucksack when he was arrested.
Police are looking for three other men, the suspect having indicated that he may have had accomplices.
The perimeter of the cathedral was cordoned off; sniffer dogs and members of bomb squads inspected the area but no threat was detected.
"The terrorist was a few metres from the entrance but the security forces intervened and he was arrested before he could enter the church and detonate the bomb", evangelical pastor Robert Kayanja told AFP. The pastor is a public supporter of President Yoweri Museveni.
According to a police note seen by AFP, the police had been warned of a possible attack in busy places, including churches and shopping centres.
In June, jihadists from the Allied Democratic Forces (ADF) militia, which has pledged allegiance to the Islamic State group, killed 42 people, including 37 pupils, in a secondary school in western Uganda close to the border with the Democratic Republic of Congo.
It was the deadliest attack in Uganda since the double bombing in Kampala in 2010, which killed 76 people in a raid claimed by the Somali-based Islamist group Shebab.
Uganda Detains Man Suspected of Planning Bomb Attack on Church
https://www.voanews.com/a/uganda-detains-man-suspected-of-planning-bomb-attack-on-church-/7252663.html
KAMPALA —
Police in Uganda said Sunday they had detained a 28-year-old man entering a church in the capital Kampala with an explosive device he planned to use for an attack there.
Authorities were hunting three other men also believed to have been sent on similar bombing missions elsewhere in Uganda, police said.
The motives were unclear, but the Islamic State (IS)-linked Allied Democratic Forces (ADF) has previously carried out deadly bomb attacks in Uganda.
ADF was originally a Ugandan rebel group but was routed more than two decades ago and fled into the jungles of eastern Democratic Republic of Congo where it has since been based.
The suspect, identified as Kintu Ibrahim, was detained as he was about to enter a Pentecostal church, Lubaga Miracle Center, in the Lubaga suburb of south Kampala.
Police spokesperson Patrick Onyango told journalists security personnel had picked up intelligence about attacks planned on places of worship and that they had tracked Ibrahim.
"We got information that one terrorist had already been sent out to go and carry out a mission, so they followed the terrorist," he said.
Onyango said the suspect had a bag with an improvised explosive device which police detonated safely. During interrogation, Onyango said, he confessed he had three accomplices who had also been sent to carry out similar attacks.
"He's helping us locate those people," Onyango said, adding that the suspect was being held on terrorism related charges.