Jesus Healing Center Church international that was demolished by KCCA recently
Jesus Healing Centre Church International Before Demolition
Bishop Samuel Kusasira Senior Pastor JHCCI Kampala Uganda (E.A)
SAD NEWS:

As some of you might have seen in the news,on Tuesday 10 March 2015, our Church; Jesus Healing Centre Located on Bahai Road near Bahai temple, Pastored by Bishop Samuel Kusasira was demolished!

The man allegedly behind the demolition is a Muslim politician who stays within the neighborhood of Kikaaya Kisaasi Zone B near where our church is located. He sent a team of rogue officials from KCCA & over 30 heavily armed plain clothed security men who surrounded the churc

h,put our members on gun point,confiscated their mobile phones & ordered them out of the church.Their bulldozer then razed it down at 4:00am in the Morning, destroying property worth millions of shillings.
Several Churches have been demolished within a period of 4 months.
We call upon the government to seriously look into this matter otherwise the body of Christ is under attack
Ekkanisa eyamenyebwa esitudde abanene
Pentecostal churches in Uganda face closure by NEMA over noise
A couple of weeks back,
two Pentecostal churches in Kampala were demolished by KCCA. After the demolition of these churches , Pentecostal pastors under their umbrella organizations have come out with scathing attacks on government. Ever since,
government has apologized and even contributed to the rebuilding of these churches. We need to ask our selves the following questions; Why would president Museveni antagonize such a critical voting block for his National Resistance Movement(NRM) at this material time? why would Museveni's government through KCCA start demolishing Pentecostal churches in Kampala at such
a critical time when Presidential and parliamentary elections are just a few months away ? Remember that there is nothing that
KCCA does without the approval of the president.
The demolition of Pentecostal churches is being used by government to trick Pentecostals into believing that there are enemies of Pentecostalism who have infiltrated
governmental
and are waiting for an opportunity for president Museveni to leave so that they completely destroy Pentecostal churches. In other words, If Pentecostals want Pentecostalism
and their churches to survive , they must vote for President Museveni who is a ''protector'' of the Pentecostal church in Uganda. Few months from now, we should not be surprised when Pentecostal pastors start raising support for president Museveni on their pulpits , TVs and radio stations.
Church demolitions stir up anger, confusion
Written by
OUR REPORTER
Singing, drumming, clapping and cheering from congregants throughout the week is now a common sight in Kampala.
But recently, the issue of loud worship has pitted people in the comfort of their homes or workplace against the right to freedom of worship. Some say the 'noise' is several decibels higher than normal. One resident of Kisaasi, a Kampala suburb, who preferred anonymity, said many congregants hold special services throughout the week and these sometimes last more than eight hours.
"The joyful noise is sometimes deafening [to the point] that I can hardly hear the TV when congregants are worshipping. What is most annoying is that they start in the evening and go on into the wee hours of the morning which makes a good night's sleep difficult," said the resident.
KCCA Executive Director Worships at Watoto Pentecostal Church
With increasing petitions concerning noise pollution and illegal structures against some churches, Kampala Capital City Authority (KCCA) is now demolishing some of them. A few weeks ago, the authority tore down a Pentecostal church in Kisaasi on grounds that the structure was of poor quality, built on land where it should not have been and that several complaints about noise had been lodged against it.
Robert Kalumba, the deputy spokesperson of KCCA, says they had served the pastor of the church notice of his church being an illegal structure on December 5, 2014, but he ignored it.
"The church was demolished because of poor physical planning and KCCA is currently in talks with religious leaders on the issue of structures. We also receive seven to 10 complaints daily on the issue of noise and we are trying to sensitize the Christian fraternity that other people's rights have to be respected," said Kalumba.
Currently, the demolished structure has been replaced by a tent and one resident says the noise has since tripled. Another Pentecostal church, Jesus Healing Centre, led by Bishop Samuel Kusasira in Kikaaya, Kawempe division was torn down three weeks ago over illegal construction and noise pollution. This followed a petition by 36 residents.
Pentecostal KCCA executive Director Puts on a Muslim Hijab during a meeting with Muslims last month
According to Section 9 of the 2003 National Environment (Noise Standards and Control, Regulations, a person shall not emit or cause to be emitted or permit the emission of noise resulting from yelling, laughing, clapping, shouting, pounding and singing, if the noise is clearly audible in the neighbourhood for more than two minutes or is within the prohibited time, in a residential area, school, hospital and other noise control zones.
With regard to this law, KCCA is cracking down on noise pollution, telling church leaders that they must reduce the volume or face penalties including the risk of being closed. John Ouma, a resident of Kasubi, says although churches provide spiritual nourishment to people, they are still under national laws and should abide by them.
This is the second time KCCA is attempting to control noise from places of worship. The authority's first attempt in 2013 was met by resistance especially from the Muslim community, whose faith requires a public call to prayer (Adhan) five times a day starting at 5am – mostly done over loudspeakers.
After a letter from KCCA Executive Director Jennifer Musisi inviting religious leaders to a September 25 meeting to discuss noise pollution from places of worship, Muslim leaders reacted angrily
[See, Muslims threaten KCCA on 'noisy' call to prayers. The Observer, September 29].
Now Pentecostals are also crying foul over KCCA's latest approach. A pastor in Mpererwe (name withheld on request) says such laws stifle the church's form of worship and curtail people's freedom to worship the way they want.
"How come it is Pentecostal structures that are being torn down? Why not nightclubs, bars and mosques? All these contribute to noise. I think the people behind this operation have another agenda and are enemies of Christianity. Psalm 150 urges us to praise the Lord with loud music," he retorted.
Dr Joseph Sserwadda, the presiding apostle of the Born Again Faith Federation, says KCCA is justified in demolishing churches constructed in areas such as road reserves and swamps. He, however, says closure over noise pollution is unjustified.
"There are times when KCCA is playing wrong because the issue of noise can be sorted out easily," he told The Observer.
In 2002, Gen David Sejusa was cast into the limelight over a wrangle with a neighbouring mosque in Kyengera, which he said was making "too much noise" for him. The mosque won that round, and the general moved house.
And 'worship noise' is no longer restricted to Muslims and Pentecostals; as Catholic and Anglican chapels grow their congregations, followers increasingly sit in tents outside the church and follow the sermons and praise on screens and loudspeakers. At Christ the King church, for example, a well-attended mass can be heard from neighbouring premises as well.
Noise levels aside, KCCA is also reportedly moving to enforce more order for places of worship. Pastor Sserwadda said during his Sunday morning radio show on Impact FM, places of worship – regardless of denomination – will now be required by KCCA to keep at least 500m between each other in any locality.
The case of controlling places of worship has always been an emotional and charged one, and KCCA's work is cut out for it. Just a few days after demolition of the Kikaaya church, for example, a UPDF top commander and senior police officials were among the congregation captured on local TV enthusiastically fundraising to rebuild the church structure.
The UPDF general quipped that this government believes in freedom of worship, while a police officer 'cursed' the KCCA official in charge of the operation.
Over 1 000 churches to be demolished
By: Godfrey Olukya
2015-03-18 20:52
Kampala - Authorities in Kampala have threatened to demolish over 1 000 illegally constructed churches in the city and its suburbs.
''We have plans to demolish all the illegally constructed churches in Kampala. Some of the church buildings are in very poor state and can collapse any time,'' said KCCA engineer, Robert Okello.
This has come after a cross section of Ugandans complained about noise made in the pentecostal churches especially in residential areas.
They have also complained about street preachers who have recently been on the increase in Kampala city. Many churches, some of which are managed by con men, have also cropped up in Kampala and other parts of the country.
''We cannot sleep at night because of the much noise made in those churches. They start making noise from 10.00 pm until 5.00 am,'' said Solome Nakato, a primary school teacher living at Kawempe, in the outskirts of Kampala.
She said that they have complained several times to police but nothing has been done.
A businessman, Tom Kaya said that there are preachers on every street of Kampala nowadays who shout their voices out as they call for people to give their lives to Christ.
''Unfortunately, the messages sent by some of these people are biased or meant to divide the people. They attack everyone who does not agree with their faith,'' said Kaya.
He said even the manner in which they shout is not acceptable in modern cities.
Such complaints forced the Kampala city council authority to demolish one of the churches and threatened to do the same to the others.
However, many believers went wild and threatened to demonstrate against the demolition.
The Pentecostal churches have resolved to put in place a delegation to meet KCCA and jointly set up guidelines and minimum standards under which the churches should operate.
''This comes after reports that KCCA is in advanced stages of demolishing close to 1000 churches that were illegally put up,'' said
Bishop Joshua Lwere, the General Overseer of National Fellowship of Born Again Pentecostal churches of Uganda He said that the dialogue will be held this week.
Born Again leaders to meet KCCA over church demolition
Leaders of the Born Again Pentecostal churches resolve to send a delegation to meet KCCA and jointly set up guidelines and minimum standards under which the churches should operate.
This after KCCA demolished a Pentecostal church, Jesus Healing Centre in Kikaaya- Kawempe division over noise pollution and illegally being constructed. This after a petition by 36 residents.
The 80 million shillings complex led by Bishop Samuel Kusasira was demolished by KCCA law enforcement officers last week .
It also comes after reports that KCCA is in advanced stages of demolishing close to 1000 churches that were illegally put up.
Bishop Joshua Lwere the General Overseer of National Fellowship of Born Again Pentecostal churches of Uganda says they will meet directors at KCCA this week
KCCA Spokesperson Peter Kawujju dismisses reports that the authority is to demolish churches
Story by
Wycliffe Sebunya
March 16 2015
MUST READ:
Uganda Pentecostals are treading a dangerous political path by fornicating with Museveni's corrupt dictatorship: Pastor Joseph Serwadda, Bishop David Kiganda and Pastor Jackson Senyonga new year eve celebrations turn into political fora to raise support for President Museveni.
Government representatives, politicians and religious leaders pray for President Museveni as they stand in front of his portrait during Pastor Jackson Senyonga of Christian Life Ministries New Year prayers at Kololo independence grounds. Photo/Tony Rujuta.
The Curse of Dominion Theology: How Pentecostals in Uganda are trying to take over Kampala Capital city from Muslims by hook or crook. Born again KCCA executive director Jennifer Musisi shuts down KCCA offices after court ruling that reinstated Al.Haji Elias a Muslim mayor of Kampala City
JEREMIAH 1: 19: "They will fight against you, but they will not overcome you, for I am with you to deliver you," declares the LORD."
Erias Lukwago swearing in with a Koran as Kampala's first Lord Mayor at Mayor's gardens Kampala on 19 May 2011
PASTOR JOSEPH SERWADDA'S 9TH NAMBOOLE PASSOVER FESTIVAL: CHANNELS OF HIDDEN COMMUNICATION, ECUMENISM AND SUBTLE POLITICAL CHRISTIANITY
THE GREAT UGANDAN PASSOVER PLOT
Muslims threaten KCCA on 'noisy' call to prayers
Written by Sadab Kitatta Kaaya
But if the Kampala Capital City Authority gets it way, city dwellers may have to forget this Adhan, The Observer can reveal. KCCA is reportedly moving to ban the Adhan so as to control noise pollution.
The Observer has learnt that the matter has caused such anxiety among Muslims that it has united the two major Muslim factions, Kibuli and Old Kampala.
On September 17, KCCA Executive Director Jennifer Musisi wrote to Mufti Sheikh Shaban Mubajje, inviting him for a meeting on noise pollution in Kampala.
"KCCA has noted and continues to receive complaints from the public about the excessive noise in communities coming from places of worship," read Musisi's letter in part.
Musisi's letter also indicated that KCCA officials would work with the Environmental Protection force (EPF) to inspect the places of worship to ensure compliance with the National Environment Act.
Unity for once
According to Muslim sources, the Old Kampala group snubbed this meeting, originally scheduled for September 25 in the KCCA boardroom. It is said that, instead, the letter was passed to the Kibuli faction.
KCCA was not bothered by the absence of the Muslim leaders in this meeting as other invitees had turned up. The Kibuli mosque supervisor, commonly known as Gotto, was delegated to attend the meeting and to report back on the proposed new guidelines.
Gotto's report of what transpired in the meeting has set off anger within both factions.
"In her guidelines, she doesn't want us to make the Fajr Adhan [call for the morning prayer] because she says such noise will only be entertained after 8:30am, but again she also has problems with Adhan made during working hours," said Sheikh Nuhu Muzaata Batte, the director of Dawah at Kibuli.
---
Several Muslim leaders have since warned the KCCA against moving to ban the Adhan, interpreting the move as an infringement on their freedom of worship. The Supreme Mufti (head of the Kibuli faction) Sheikh Zubair Kayongo said KCCA could not determine how Muslims should worship.
"She should not attempt to try to direct us on how to practise our religious. Adhan is not a new phenomenon in Islam. Let her be advised to be careful with the steps she is taking because we are not ready to abide by her directives," Kayongo said at Wandegeya mosque on Friday, while bidding farewell to hundreds of pilgrims due for Hijja in Mecca.
Prince Kassim Nakibinge Kakungulu, revered as a titular head of Muslims, described the move as provocative, urging Muslims to reject the directive.
"She should be ready to suffer the consequences and she should be informed that we have a bigger stake in this country," Nakibinge warned at the Wandegeya function.
Appearing on Pearl FM an Islamic radio, over the weekend, Imam Idi Kasozi, vice-chairman of the Uganda Muslim Youth Assembly (UMYA), asked Muslims to ignore Musisi's communication.
KCCA responds
However KCCA Spokesperson Peter Kaujju explained that the September 25 meeting was a preliminary engagement intended to forge a way forward.
"We have not stopped nor issued any command be it to Muslims, Catholics or Protestants stopping them from calling people to prayer. We want to work together with the religious leaders and find a way of addressing the numerous complaints we get," Kaujju said, Saturday.
This is not the first time that the Muslim community is getting into conflict with government officials over their call to prayers.
In 2002, Gen David Sejusa (Tinyefuza), now exiled in the United Kingdom, attempted to confiscate the loud speakers at a mosque in Kyengera, Wakiso district. Ultimately, Sejusa was forced out of his Kyengera home because he could no longer bear the 'noise' from Muslims making Adhan for the morning prayer.
Muslims insist KCCA will not have its way on the Adhan.
Atheist Alan Tacca spews hatred for Pentecostal churches in Uganda: Many Ugandans hate Pentecostals churches for siding with Museveni's dictatorship. see article below :
Do Balokole (Pentecostals) know how other religious fanatics get hated?
By Alan Tacca

Posted Sunday, March 22 2015 at 02:00
In Summary
They are not pleading for the thousands of poor people who have lost their livelihood. They are angry for one makeshift church. One discussant patronisingly claimed that it was the balokole's prayers that had kept Mr Museveni in power for so long, implying that he had a duty to use his power to override any building standard regulations to protect their churches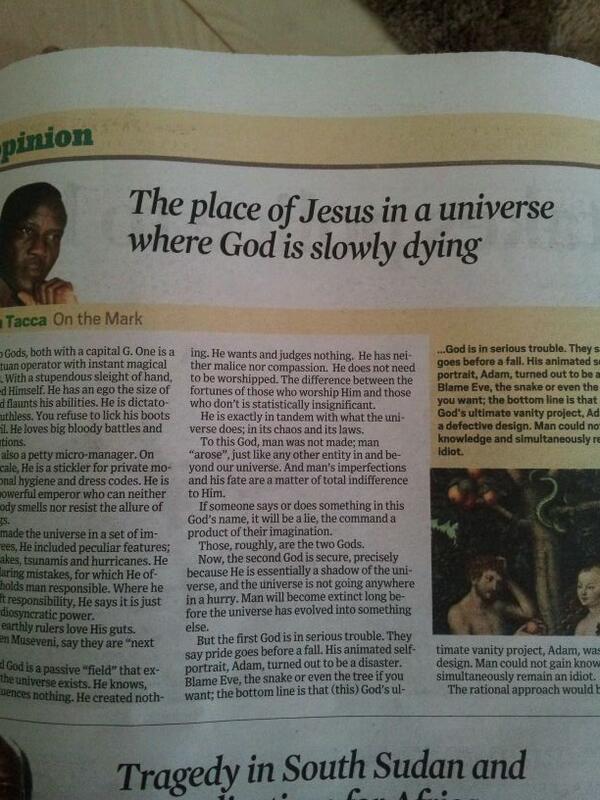 Uganda's masses sometimes get obsessed with strange things, the sort of things that make them more dependent, and with no evidence that being immersed in these things is likely to improve their general condition.
Take their churches and mosques. Some sections of the masses are really obsessed with their churches and mosques. You can demolish their schools, markets and slum dwellings and "steal" the land on which they stood and get away with it – in a fashion. Doing the same with a church or mosque will earn you the kind of wrath that should only come from the commandos of God when they are kicking unforgiven sinners through the gates of hell after the Last Judgment.
Strange, I say; because as their emotions rise, God himself remains completely calm, completely indifferent, and for all intents and purposes completely dead.
The ideological ambivalence of the ruling NRM allows President Museveni to hire a Kampala Capital City Authority executive director who demolishes any structure in Kampala that stands as a product of poverty, ignorance or illegality, and at the same time hire a State House functionary who tirelessly rants that the executive director is the most abominable monster with two legs.
The President praises the city boss for cleaning or beautifying the city, and the President's functionary denounces her for tearing down the livelihood of the urban poor.
A perfect balance! Being the appointing authority, the President earns points for a less disorganised city and also earns points for defending the city's dispossessed poor!

Now, some days back, the city's demolition men reportedly brought down a Pentecostal church in the Kisaasi-Kyebando area.
The church seems to have had a number of problems; like being a poor quality and dangerous structure, possibly on a patch of land where it should not have been, as well as being a source of unbearable noise that tested the patience of the neighbourhood.
The event has been discussed extensively on the radio stations owned by Pentecostals.
As expected, there is the spitting of fire and sulphur. Then there is the vow to rebuild the church; even if perhaps not exactly on the same spot where the demolished church stood.
The tone is of defiance, of showing how powerful their organisation is.
They are not pleading for the thousands of poor people who have lost their livelihood. They are angry for one makeshift church. One discussant patronisingly claimed that it was the balokole's prayers that had kept Mr Museveni in power for so long, implying that he had a duty to use his power to override any building standard regulations to protect their churches.
(An indirect invitation to presidential corruption? Are they beneficiaries of the other forms of corruption rampant in our land, too, and therefore praying for it to continue? Tithes on stolen money also stand at 10 per cent.)
On noise, the discussants quickly reached a consensus that the (constitutional) right to worship gives them liberty to worship in any form, day or night.
It seems that the first treasure the religious fanatic throws out of the window is common sense.
Noise is noise, whether it is made by a brat on a motor-bike or a preacher with a megaphone. Most people with a proper brain hate excessive noise, especially when they are not part of the noisy event.
Because the fanatic is deluded that the world revolves around his faith, he has virtually no feeling or consideration for those who see the world differently, especially if they have no power.
How many of these noisy outfits have been set up in the up-market residential areas and workplaces of Nakasero or Kololo?
How many families of the top (say richest) 20 pastors live in the immediate (often depressed) neighbourhoods where their churches impose themselves and generate noise with impunity?
If the answers to those questions are not lessons in their own right, then, even if they are not yet violent, our religious fanatics can glance at the Middle East and West Africa to learn how other fanatics became anti-social, anti-civilisation and slowly came to get hated.