Archbishop Cyprian Lwanga shakes hands with State minister Rukia Kadama. On his left,

Pastor Joseph Sserwadda

, Mufti Shaban Mubajje and the Secretary General of KAICIID Faisal Muaammar. PHOTO/Wilfred Sanya
Translation of Luganda article
The born again Pentecostal faith has been recognized as an official religion in Uganda.
The head of this faith will be allowed to sit on the inter-religious ecumenical council in the country.
In 2006, President Museveni promised to recognize them as an independent

religious faith. Now, they are celebrating because the president's promise has come to pass. Pentecostal churches in Uganda will no longer need to register as NGOs in order to operate. According to Pastor Joseph Sserwadda, ''the born again Pentecostal faith has been elevated to the level of other religions in the country and its head will sit on the Inter religious ecumenical council. Apostle Dr. Joseph Sserwadda told the press that since 2009, they have been negotiating with government about

need to change the law requiring

born again Pentecostal churches

to register as NGOs. The
recognition of the faith means that Apostle Dr. Joseph Sserwadda will now sit on the Inter religious ecumenical council with catholic, Anglican, SDA and Orthodox leaders.(http://www.bukedde.co.ug/news/81842-abalokole-bali-mu-kujaganya-olw-okubatongoza.html )
Pastor Joseph Sserwadda is being used by satan to trap born again Christians in an ecumenical trap. Why would born again Christian beg

to be recognized by an ecumenical president ? Why would born again Christians struggle to sit on the inter religious ecumenical council

with apostate religions such as Catholicism, Anglicanism , SDA and Islam ?? This is how satan compromises born again Christians. And which God will Apostle Joseph Sserwadda pray to

during the inter religious meetings; Allah or Jesus??
Of course ,President Museveni's government is doing all this to reap political capital from Pentecostal churches especially since the 2016 elections are around the corner. The good thing many born again churches in Uganda have rejected Pastor Sserwadda's undemocratic Born Again Faith Federstion(BAFFE). There is no way one can trap all born again Christians into a single organization. Supposing, satan penetrates the organization. Do we expect genuine born again Christians not to flee.
Million Dollar Questions for Pastor Joseph Sserwadda
Dear Pastor Sserwadda,

how comes the Apostles in the book of Acts never fought to be recognized by government??
Do you know that since the Catholic Church became politically recognized, it became more rotten?
If you peach the true Gospel of the Lord Jesus (eternal prosperity) and 80% of the Ugandans get saved, don't you think that government will recognize you whether it wants or not?
You argue that the Law governing churches is very draconian. If that is true, how comes sodomite and thug pastors still go unpunished by government?
Don't you think that one of the fundamental reasons why we do not trust you is because you have compromised with SIN and EVIL so much? How can we led by a person who has joined hands with ecumenists????
BORN AGAIN FAITH FEDERATION OR BORN AGAIN KISANJA FEDERATION
Pastor Joseph Sserwadda in Suit with members of the Inter religious Council of Uganda
First Read:
Born-again churches reject federation
Inter religious Council of Uganda Ecumenists
Born-again form body to get recognition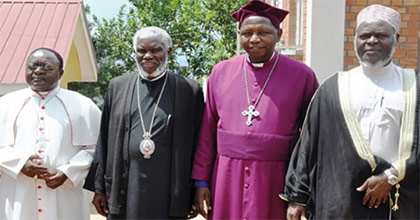 Inter religious Council of Uganda Ecumenists
NOW THE EMERGING CHURCH CHICKENS COME HOME TO ROOST: PASTOR JOSEPH SERWADDA'S BORN AGAIN FAITH FEDERATION JOINS ECUMENISTIC INTER-RELIGIOUS COUNCIL
Catholic, Anglican, SDA and Orthodox heads demonstrate the ONE RELIGION ecumenical motive of the Inter religious council of Uganda
Pastors Joseph Serwadda, Gary Skinner and Uganda Pentecostals on the Road of Ecumenism : Christians to fast 40 days over child sacrifice
Abalokole bali mu kujaganya olw'okubatongoza

ABENZIKIRIZA y'abalokole bali mu kujaganya olwa Gavumenti okubakakasa ng'enzikiriza eyeetongodde era omukulembeze waabwe n'akkirizibwa okutuula ku lukiiko olugatta eddiini wano mu ggwanga. Tubaddeko mu kafubo n'omwogezi w'ekibiina ekifuga enzikiria y'Abalokole, Omutume Charles Tumwine ensonga eno n'agyogerako bwati:

"Nga tumalako omwaka, nga twetegekera okuyingira mu mulala 2015, Abalokole tujaguza obuwanguzi obw'enjawulo ate obutuukiddwaako nga bwa kusigala mu byafaayo bya Uganda.

Abakulembeze b'Abalokole wonna mu ggwanga tumaze ebbanga nga tusaba tukomye okwewandiisa ng'ebibiina by'obwannakyewa ebigaba obuyambi twetongole tufuuke enzikiriza eyeetongodde.

Munajjukira gye buvuddeko mu 2006 nga 14 e Namboole Pulezidenti Museveni yawa ekirowoozo tufuulibwe enzikiriza eyeetongodde balekere awo okutuyita ebibiina by'obwannakyewa. Gavumenti ng'eyita mu nnyingo 29 eya Ssemateeka akatundu akasooka yatusuubiza okutukolera ku nsonga eno.

Mu 2009 twawandiikira akakiiko akagatta enzikiriza mu ggwanga nga twagala okukeegattako naffe gavumenti etukakase ng'enzikiriza eyeetongodde.

Oluvanyuma lw'okutuukiriza ebisaanyizo nga tukola ebyo ebigwanidde ng'okulwanyisa endwadde, okusasaanya enjiri ya Yesu, okulondoola n'okwekenneenya ebyobukulembeze n'ebirala, twakakasiddwa ne tuweebwa ebbeetu okweyunga ku kakiiko kano. Nneebaza akakiiko akatunuulidde ensonga zaffe ate ne kazissaamu ekitiibwa."



OMUTUME SSERWADDA AYOGEDDE



ENZIKIRIZA y'Abalokole entongozeddwa n'etuusibwa ku ddaala ly'enzikiriza eyeetongodde era eri ku ddaala limu n'eddiini endala zonna mu ggwanga. Kino kitegeeza omukulembeze waabwe waakutuula butereevu ku lukiiko olugatta enzikiriza zonna mu ggwanga olwa Inter - Religious Council.

Omutume Dr. Joseph Sserwadda yategeezezza nti okuviira ddala mu 2009 babadde boogera ne gavumenti nga bawakanya eky'okwewandiisa ng'ebibiina bya nnakyewa era nga babadde tebakkirizibwa kwetongola.
Omwogezi w'ekibiina ekigatta enzikiriza y'Abalokole ekya Born Again Faith, Omutume Charles Tumwine yagambye nti, nga 14/02/2006 e Namboole Pulezidenti Museveni yakkiriza Abalokole okulekera awo okuwandiisibwa ng'ebibiina bya nnakyewa bafuulibwe eddiini eyeetongodde.

Mu nkola eno, omukulembeze w'ekibiina kino Omutume Dr. Joseph Sserwadda waakutuula butereevu ku lukiiko olugatta eddiini nnansangwa nga ey'Abakatoliki, Abasiraamu, Abakrisitaayo n'abalala.

Ku Lwokuna, omwogezi w'ekibiina kino Omutume Charles Tumwine lwe yayanjulidde bannamawulire obuwanguzi bwe batuuseeko mu lukuhhaana lwe yatuuzizza ku kitebe kyabwe e Najjanankumbi.

Yalabudde abantu abatandikawo ebintu ebirala ne beeyita abasumba nga tebalina na makanisa, n'asaba gavumenti abantu abo ebakwateko kuba bavumaganya enzikiriza yaabwe.
Pastor Joseph Sserwadda in a Kitengi and Pastor Bishop David Kiganda in purple ecumenical attire welcome back Catholic Speaker Kadaga from Canada
MUST READ:
King Iguru dedicates Bunyoro to God: Pentecostals Pastors led by Pastor Joshau Lwere join catholic and Anglican clergy to covenant Bunyoro Kingdom to God. Bunyoro Kingdom is deeply engrossed in ancestral worship and as well as the worship of small gods.
Pastor Joshua Lwere(purple/black attire), head of the National Fellowship of Pentecostal churches with other ecumenists
PASTOR JOSEPH SERWADDA'S 9TH NAMBOOLE PASSOVER FESTIVAL: CHANNELS OF HIDDEN COMMUNICATION, ECUMENISM AND SUBTLE POLITICAL CHRISTIANITY
http://watchmanafrica.blogspot.com/2011/01/pastor-joseph-serwaddas-9th-namboole.html
Bishop Joshua Lwere with Benyoro Convention Ecumenists
The Harlot Ugandan Church and spiritual fornication : When American- Ugandan prosperity pastors dress in religion garb like catholic and Anglican clergy : Pastors who dress like this are controlled by the spirit of hypocrisy; they slowly drift away from preaching the true gospel and eventually lead to rome.
Bishop Patrick Makumbi looking like a catholic or Anglican Bishop
The Harlot Church And Spiritual Fornication
http://watchmanafrica.blogspot.com/2013/01/the-harlot-church-and-spiritual.html
Apostle Julius Peter Oyet in collar and buttoned up suit with other ecumenists
AFTER YEARS OF COVER UP PASTOR JOSEPH SERWADDA FINALLY SUSPENDS PASTOR PATRICK MAKUMBI
Pastor Joshau Lwere leads the Musevenis in their marriage re-vows
Uganda Pentecostals are treading a dangerous political path by fornicating with Museveni's corrupt dictatorship: Pastor Joseph Serwadda, Bishop David Kiganda and Pastor Jackson Senyonga new year eve celebrations turn into political fora to raise support for President Museveni.
http://watchmanafrica.blogspot.com/2014/01/uganda-pentecostals-are-treading.html
Pastor Mondo Mugisha
Spiritual Politics in Uganda prior to the 2011 General Election: Why Pastor Sserwadda's Namboole Passover Festival is to be aired Live on UBC
http://watchmanafrica.blogspot.com/2010/11/spiritual-politics-begin-to-take-shape.html
Pastor David Kiganda in Black suit attends ecumenical prayers at state house December, 2014
Which God??? Ecumenical thanks giving prayers held at State House in Entebbe drew all shades of Ugandans to dedicate their country and the forthcoming year – 2015 – to God