Judge not according to appearance , but judge

righteous judgment (John 7:34)




But he that is spiritual judges all things (1 Corinthians 2:15)

Comment

The catholic church is the worst satanic institution on the faith of the earth . It escorts its faithfools up to the doors of hell. The catholic church cares less about one 's filthy life stlye. What matters is for one to remain a staunch catholic. A wealthy polygamist like Prof.Mukiibi was eulogized as a hero. The catholic church kept completely silent about his infidelity and sex escapedes . As long as you are wealthy and you use your wealth to support the catholic church , the catholic church will do every thing possible to hide your sin. No one will go to heaven because they were buried in white. Prof. Mukiibi will never see heaven. Even if the catholic church prays a billion MASSES so that his soul moves from purgatory to heaven….It will not happen. There is no catholic who will ever make it to heaven. Catholics like the catholic system because it hides their sin or works of darkness.

"I want to be buried in white because I know heaven and the angels are white and that is where I am going. All people must be in white or else I will jump out of the coffin and attack them," he told NBS TV host, Mable Twegumye.

https://www.youtube.com/watch?v=HHkxoE4e1P8

You will see them by their fruits : Pastor Robert Kayanja and 'Born again' first lady respect the wish of a dead catholic millionaire educationist Prof. Lawrence Mukiibi and dress in white at funnel

Do not allow the catholic church to escort you up to the doors of hell: AIGP Felix Kaweesa Burried Catholic style

The curse of dying in the satanic Roman Catholic church and going to hell: Popular catholic charismatic preacher J. B Mukajanga hurriedly buried amidst rumors of poisoning

The curse of living as a famous celebrity but dying as a roman catholic and going to hell: Ghana mourns BBC catholic presenter Komla Dumor, one of the nation's most revered journalists, who died of a heart attack last month at the age of 41.

The curse of dying catholic: When the catholic church escorts its faithfuls to the doors of hell: Catholic NTV news anchor Rosemary Nankabirwa dead : Executive aviation chattered aircraft carrying the remains of Rosemary landed at Entebbe International airport: Nankabirwa died with dignity – catholic parish priest: Nankabirwa: Jesus will heal me: Nankabirwa's last words: save me Jesus
All-white funeral for St. Lawrence's Mukiibi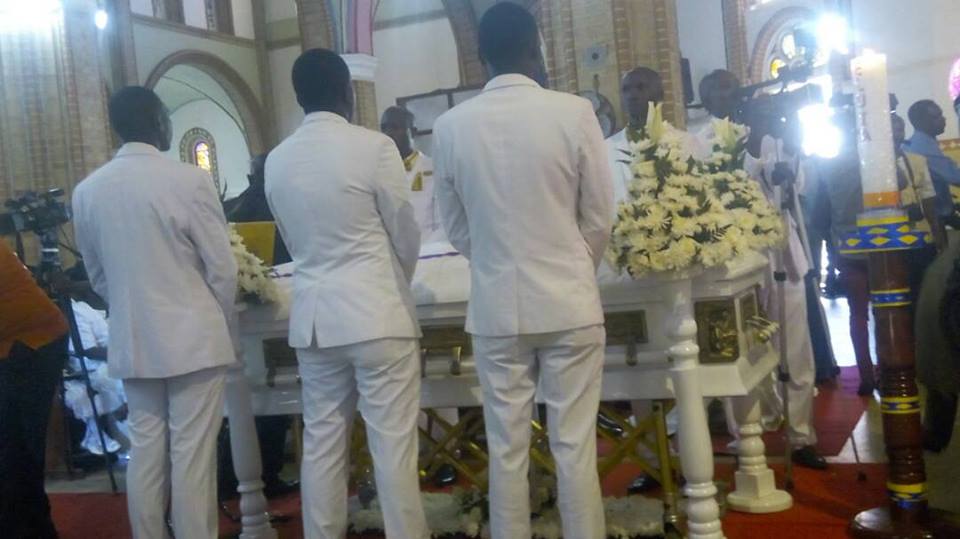 Contrary to the norm of wearing black at funerals, Prof. Lawrence Mukiibi's dying wish was to have an all-white funeral.
The founder of St. Lawrence schools and university passed away on Sunday and mourners including First Lady and Education Minister Hon. Janet Kataha Museveni have respected his wish.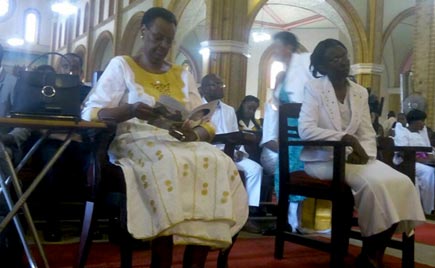 During a requiem mass at Rubaga Cathedral with morning, the pole bearers carrying his white casket were also dressed in immaculate white suits.
According to his daughter Maria Tulina who also wore a white suit, Mukiibi requested that people should wear white to his funeral.
She also added that he requested that people shouldn't mourn but rather celebrate his life.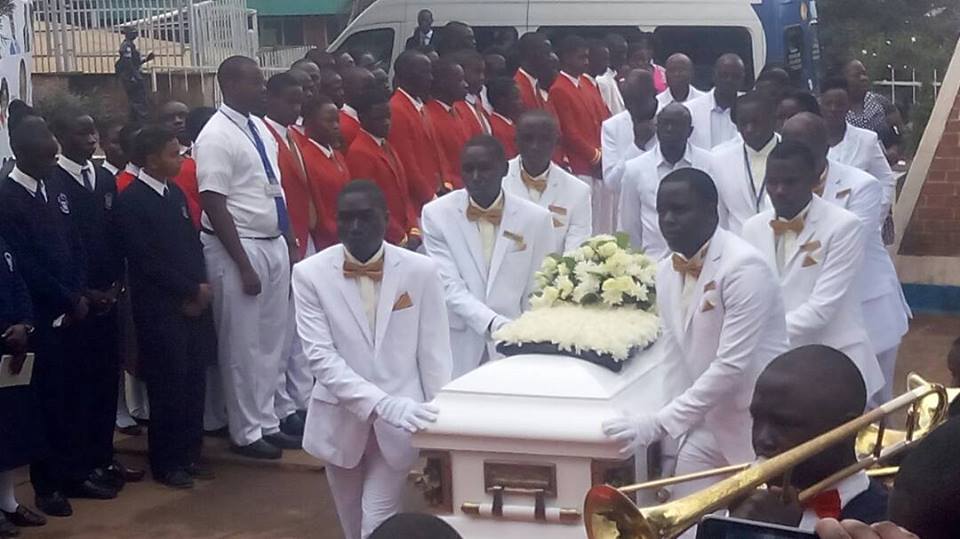 While eulogising their former school head, many of the St. Lawrence students recall how Mukiibi was obsessed with the colour white, saying it depicted cleanliness, all of them wear instructed to always have three white handkerchiefs on them, on top of wearing mandatory white stockings.
Mukiibi is to be laid to rest in Katende on Friday.
Prof. Mukiibi's death; educator's siring many children throws St. Lawrence Schools brand in crisis
Jun 5, 2017
By Watchdog reporter
To begin with, we would like to appreciate the late Prof. Lawrence Mukiibi for having been able to stand against the odds to set up such a magnificent Education empire which has enormously contributed to the growth of Uganda's education system.
The late educationist was one of the kind, a man who always wanted to see a Ugandan child at least get a chance education and this could be proved by the wholesome number of bursaries he used to give out in his schools.
But all those praises came to a standstill when a 'fleet' of tens of children were lined up during his burial ceremony and were announced to be his biological children.
Many people have been shocked by Prof. Mukiibi's act of fathering more than 50 children whereby most of them were as a result of 'preying' on some of his students.
It is alleged that during his burial ceremony, over 20 young pregnant girls (probably old girls of St. Lawrence Schools) were shut out of the ceremony because it was such an embarrassment to the Mukiibi family.
So far 87 live children have been brought to the late's relatives. 53 confirmed as his and the rest are awaiting DNA tests. May be more are yet to come.
To make matters worse, apart from preying on his students, Mukiibi has been also 'enjoying' the schools staff including the beautiful headmistresses, bursars, secretaries among others.
Where does this leave St. Lawrence Schools image?
Well, basing on what most Ugandans have previously evidenced, it is clear that the schools' image is now in shambles.
The incident clearly reveals to the nation what Prof. Mukiibi has been doing behind our backs especially with our young girls we send to his schools. Mukiibi was supposed to be a father figure, not a boyfriend or sugar daddy for the girls. And if this is a culture that the founder of the schools introduced and left at the Schools, it is a terrible precedent.
Though, the old man is dead now, it's going to become very hard for a parent to entrust his/her girl child to St. Lawrence Schools since we don't know whether the remaining administrators behave the same way or not.
Why Prof Mukiibi demanded all-white funeral, burial
Prof Mukiibi demanded white funeral, burial lest he jumps out of coffin & attacks mourners
The Late Prof. Lawrence Mukiibi, Proprietor of St. Lawrence schools & colleges, left strict instructions for an all-white funeral and burial to be prepared for him.
He was laid to rest on Friday June 2, at his home in Katende, Mpigi District having died on Sunday May 28th after suffering cardiac arrest at Norvik Hospital in Kampala.
The Vice President Edward Kiwanuka Ssekandi attended the burial and eulogized the founder of St. Lawrence Colleges/Schools and St. Lawrence University Late Prof. Lawrence Mukiibi as a Great Educationist who is going to be missed by the Family and the Country at large.
All white funeral and burial
Speaking before his death at NBS TV "People and Power" programme, Mukiibi maintained that his burial [after he died] has to be all white.
"I want to be buried in white because I know heaven and the angels are white and that is where I am going. All people must be in white or else I will jump out of the coffin and attack them," he told NBS TV host, Mable Twegumye.
Mable:
If you died today, would you die a happy man?
Prof. Mukiibi:
Yes. But when I die, I want a white funeral. I want to be buried in a white coffin, the funeral service agents should all be dressed in white. I do not want to be buried in black because it is associated with bad things only.
Children
Asked how many chidden he has fathered, Mukiibi said it is a taboo for an African man to count children.
"It is a taboo to ask an African man how many children he has, especially a man of my age. But I have many children, I keep adopting," he said, dodging the question most Ugandans are asking since the professor is said to have left behind countless children to his name.
Rising to own best schools
Prof. Mukiibi said while in school, he was not the fanciest boy.
"I was very humble and my father was an agriculturalist. While in school, my friends always went home and I stayed to work on school gardens and sites."
Mukiibi used not to like it but he worked because he wanted to raise some money.
"I always said to myself I will own a school when I grow up."
When he finished school, times were not good so he went to Kenya in exile.
He later became a head teacher at Afraha School in Kenya and changed it immensely.
He returned to Uganda in 1989 and worked at Kampala Parents School as a teacher.
"I saved up UGX. 300,000 and a friend lent me UGX. 200,000 and in 1993, I started Kabaka's lake with UGX. 500,000."
To start a school, one does not need a lot of money, he says, adding, "all you need is determination and support".
"However, when you want to start up something, you have got to save up money for it."