Judge not according to appearance , but judge

righteous judgment (John 7:34)
But he that is spiritual judges all things (1 Corinthians 2:15)
The Photo above shows president Museveni awarding Prof.Lawrence Mukiibi a Hero medal on heroes day. Prof. Mukiibi was not a hello and neither was he a role model. The sin of sexual immorality had eaten him from head to toe. I wish he had ran to the savoir Jesus Christ for salvation . How can a role model educationist sleep around with former students , employees and all kinds of skirts.
One does not become a role model educationists because he constructed many schools. One must live a exemplary life of moral integrity in order qualify to be named among the role model teachers or educationists . How can a teacher with so many children under his care live a reckless sex life style. It is a shame that the ministers of education and the government in general have glorified Prof.Mukiibi. This incident shows how rotten and corrupt our country has gotten.
Human rights and gender equity advocates should stand up and condemn Prof. Mukiibi's violence against women. No one has right to use money or wealth to prey or poor voiceless women who have no choice other than surrendering their bodies to rich men in order to attain a livelihood .
UNATU Condemns Prof Mukiibi for preying students under his care
http://theinsider.ug/index.php/2017/06/08/unatu-condemns-prof-mukiibi-for-preying-students/
Uganda National Teacher's Union-UNATU has condemned teachers and head teachers who prey on children left under their care.
The UNATU Secretary General, James Tweheyo, says it is unethical and professionally wrong for teachers to lead learners into temptation.
Tweheyo's statement follows wide spread condemnation of the Late Professor, Lawrence Mukiibi, the proprietor of St. Lawrence Schools and Colleges for fathering children with his former students.
Prof. Mukiibi succumbed to cardiac arrest last week. Dozens of young women showed up at his funeral with children they claimed to have had with the late Mukiibi.
Tweheyo says if it is indeed true that the late Prof. Mukiibi fathered children with learners placed under his care, his behavior should be condemned with the contempt it deserves.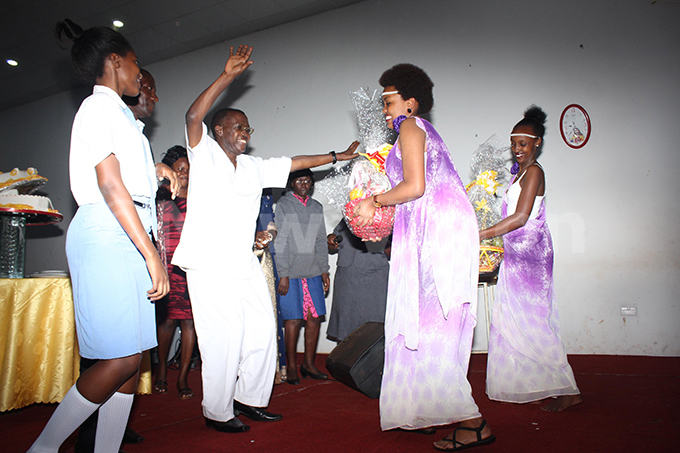 Teachers Body, UNATU Condemns 'Unethical' Prof Mukiibi
The Observer, 8th June, 2017
The Uganda National Teacher's Union (UNATU) has condemned in the 'strongest terms' allegations against the late proprietor of St Lawrence Schools and Colleges, Prof Lawrence Mukiibi that he fathered several children with his own students.
UNATU secretary general, James Tweheyo, says it is unethical and professionally wrong for teachers to lead into temptation students placed under their care and protection.
Since his death, there has been wide spread condemnation against Prof Mukiibi, who succumbed to cardiac arrest last week. While the rumours of having sexual relations with his students have been around for some time, they gained even more credence upon his death when several young mothers and former students showed up at the burial with babies they claimed were Mukiibi's.
Teachers' body condemns Prof. Mukiibi's action of 'feasting' on his students
Jun 7, 2017
By Watchdog reporter
Ever since the dirty secret of the Late Lawrence Mukiibi of feasting on his female students sexually and siring tens of children surfaced, a lot of people have come out to highly condemn such act.
The latest to do so, is Uganda National Teachers Union (UNATU), a teachers governing body which has said Prof. Mukiibi's act was unethical and a sign of unprofessionalism.
According to James Tweheyo, General Secretary UNATU, the St. Lawrence Schools proprietor's action was unethical and professionally wrong to lead learners into temptation, especially, feasting on them sexually.
"Many influential people have been hesitant to condemn high profiled educationist like Prof Mukiibi, but UNATU is living up to the expectation," Twaheyo said.
He has further downplayed the Ministry of Education for giving a deaf ear on such a grave offence committed by Mukiibi.
"It is also unfortunate that the ministry of education has not come out to make a statement on the matter," Twaheyo lamented.
It should be noted that the Minister for Education Janet Museveni was one of the most prominent mourners at the late Mukiibi's funeral, the Catholic Church has refused to condemn Mukiibi action, and the minister of state for education JC Muyingo said Mukiibi was his source of inspiration.
Apparently Mukiibi fathered more than 50 children and many are still being brought in. He allegedly left more than 20 young girls pregnant.
Teachers, Students Eulogise Educationist Mukiibi
By Damali Mukhaye
Teachers and students of St Lawrence schools have eulogised their deceased director, Lawrence Mukiibi describing him as a mentor and generous person.
Speaking during the salutation of his body at Crown City Campus in Katende, one of his schools along Masaka road, the head teacher Julius Nkumba said educationist Mukiibi was not only their boss but also their workmate who always corrected them whenever they made mistakes.
"He did not give us jobs basing on our status and background but on our potential and hard work. We have lost a mentor and a hero who cannot be replaced," Mr Nkumba said.
He added that Mukiibi's benevolence was exhibited through his sponsorship scheme where at about 76 students were offered full scholarship and 100 on half bursaries at the school.
Meanwhile, Edgar Nakibuuka, head girl at Crown city campus described the late as their father who interacted freely with all the students and their parents.
She noted that the deceased always advised them to fight for bigger things in life.
Before Crown City Campus, Mukiibi's body had been at St Lawrence Creamland and Horizon campuses in Nabbingo for viewing by students and staff. It is to be taken to all other campuses for viewing by students before the final mass at London College.