WHY PASTORS AND CHURCHES NEED TO WARN THEIR FLOCKS AGAINST HILLSONG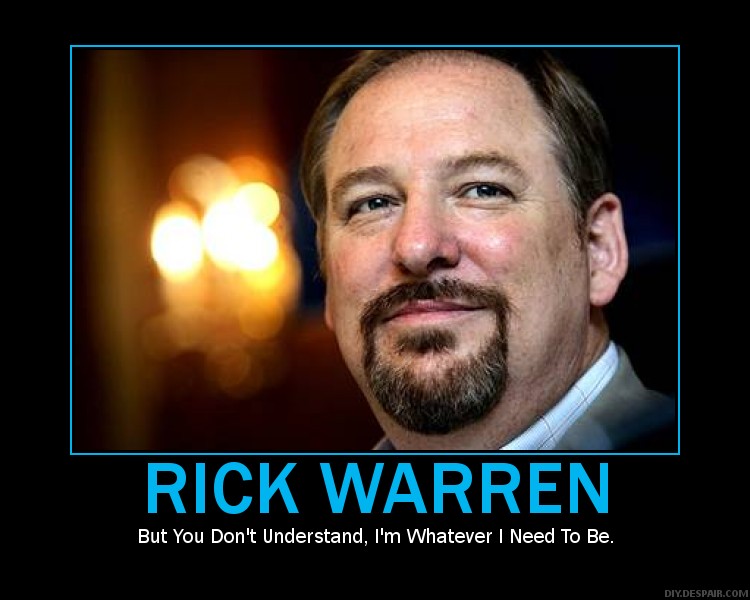 RICK WARREN EMBRACES ROMAN CATHOLICSIM
This article will be examining the false claims made by Hillsong's invited guest speaker Rick Warren, in contrast to some damning evidence put out by the Roman Catholic Church on their 2008 World Youth Day.
We ask again, what god does Hillsong worship? We say this in light of Hillsong embracing pagan religions such as
Islam
and
Roman Catholicism
. We say "embracing" because of Brian Houston's insistence that his movement preaches an inclusive gospel and an inclusive Jesus (a gospel and a Jesus you will not find in the bible).
Recently, Pastor Jordan Hall said the following about Hillsong's invited guest speaker Rick Warren for next year's Hillsong Conference 2015:
"What this man [Rick Warren] is demonstrating is that he is not a Christian brother… I think he is wicked folks…"
This is the video that Pastor Jordan Hall was reviewing.
Hear Jordan Hall review Rick Warren's Roman Catholic promotional video below. This is well worth your while.
"Absolutely appalling. What a wretched failure of Christian leadership… to say nothing of basic Christian fundamentals. God grant him repentance, and God spare others from being misled."
Source: Dan Phillips, FaceBook, https://www.facebook.com/video.php?v=10152421040155723&comment_id=10152422050505723&offset=0&total_comments=361, 28 November at 00:25.
Those that are being mislead are those that will be attending Hillsong Conference 2015 next year. What makes Hillsong conference so dangerous is that they are brazenly declare in their marketing gimmicks that
Hillsong are hearing from God
.
Their "SPEAK – WE'RE LISTENING" campaign is supposedly based on the prophet Samuel hearing from God in 1 Samuel 3:10. However, their choice of immoral and deceitful teachers are a clear indication that
the Hillsong leadership are definitely not hearing from God and that they have no clue what a fine bible teacher looks like
. One corrupt teacher they are still allowing to speak at Hillsong Conference 2015 is Rick Warren.
hat it was Tony Palmer that said to Kenneth Copeland's Word of Faith cult that, "
Brothers and sisters, Luther's protest is over. Is yours?
"
Well according to Rick Warren it is. And according to Hillsong it is. Why?
Because they don't stand for Jesus and His gospel.
If they knew the Christian faith, they wouldn't be pointing Christians to be "coming home to Rome" and worshiping their deity.
In our article on
Hillsong embracing Roman Catholicism (Part 4)
, we went to great lengths exposing how Hillsong and the Roman Catholic church are grooming Christians and churches to embrace Rome.
Furthermore, we covered the fact that Hillsong had no issue leading thousands of Roman Catholics at World Youth Day in "worship".
However, if you were in the city of Sydney in 2008, you could not escape the litter of small World Youth Day pamphlets titled "Pillar of FIRE, Pillar of TRUTH".
This booklet specifically defines the difference between the Roman Catholic Church religion from Christianity, teaching what it means to be a true Roman Catholic.
The relevant pages below refute Rick Warren's argument that Christians and Roman Catholics have "more in common". After browsing the below booklet, Christians need to ask the question:
To give you an idea what is taught in the below booklet, we read,
"Some people promote an especially attractive idea: All true Christians, regardless of how they live, have an absolute assurance of salvation, once they accept Jesus into their hearts as "their personal Lord and Savior." The problem is that this belief is contrary to the Bible and constant Christian teaching. The Bible makes it clear that Christians have a moral assurance of salvation… but the Bible does not teach that Christians have a guarantee of heaven. There can be no absolute assurance of salvation." - Pillar of FIRE, Pillar of TRUTH, WYDSYD08, Published by Catholic Answers, Inc. 2008.
To see the content online, click the below link:
Tags
bobbie houston
,
Brian Houston
,
Bruce Downes
,
Catholic
,
Downes
,
Hillsong
,
Hillsong Church
,
houston
,
pope
,
Roman Catholic
,
Roman Catholic Church
,
Roman Catholicisim
,
The Catholic Guy
October 31 – Reformation Day. The events leading up to Reformation Day (from Ligonier) were as follows:
An heir of Bishop Augustine of Hippo, Martin Luther is one of the most significant figures God has raised up since that time. This law student, turned Augustinian monk, became the center of a great controversy after his 95 theses were copied and distributed throughout Europe. Initially protesting the pope's attempt to sell salvation, Luther's study of Scripture soon led him to oppose the church of Rome on issues including the primacy of the Bible over church tradition and the means by which we are found righteous in the sight of God.
This last issue is probably Luther's most significant contribution to Christian theology. Though preached clearly in the New Testament and found in the writings of many of the church fathers, the medieval bishops and priests had largely forgotten the truth that our own good works can by no means merit God's favor. Salvation is by grace alone through faith alone, and good works result from our faith, they are not added to it as the grounds for our right standing in the Lord's eyes (
Eph. 2:8-10
). Justification, God's declaration that we are not guilty, forgiven of sin, and righteous in His sight comes because through our faith alone the Father imputes, or reckons to our account, the perfect righteousness of Christ (
2 Cor. 5:21
).'
In light of this we ask the question: is Hillsong taking us back to the dark ages? Are we seeing a gospel of inclusion that will eventually embrace the homosexual movement, Islam and Catholicism? An inclusive gospel that doesn't require preaching the foundational Christian gospel of faith and repentance, a gospel that brought about the Reformation? Has something so subtle been going on that many Christians aren't even seeing it?
With very little discernment, most Christians today can look at a picture of a golden calf being worshiped and know that this is a sin and an abomination before God.
They would not want anything to do with it, they would not show support to it in any way. They would question both their church and their pastor if they showed support for such blasphemy. Yet exactly the opposite is happening today in Hillsong.
The problem with Hillsong followers is that they don't understand what the Catholic Church teaches. 99.9% of them would not even know what the 'Eucharist' and 'Monstrance' are. If they did, they would realise that it is another 'Jesus' that the Roman Catholics follow and worship, it is an idol that they bow down to.
Many people reading this are going to say 'so what, what's wrong with Hillsong supporting Catholics?' To answer that question, we need to cover some basics first.
We need to define what a 'Protestant Christian' is. A Protestant Christian is someone who 'protests' the Catholic faith, not embraces it or shows support to it.
to their own shame
.
Below is Pope John Paul II holding what is called a Monstrance. It is used to display a round wafer of bread, called the 'host', 'victim' or 'Eucharist'. It is used in what is called the 'Mass', 'Lord's Supper', 'Communion' or 'Eucharistic meal'. The Catholic Church teaches this wafer of bread turns into the
actual body of Christ
when
consecrated by a priest
during the Mass, this is the '
Mystery of the Eucharist'
.
This is the Roman Catholic 'Christ'.
I would encourage anyone reading this to do their own research and see for themselves that this is 'another Jesus' – an abomination before the Lord.
So now that we have covered some basics, we can see that the Roman Catholic Church have 'another Jesus', an idol that they worship and sacrifice to at every Mass.
In order to answer we need to go back to the beginning….
Even though we have covered this before, it is worth covering it again. This is what Brian Houston had to say
when Pope Benedict was elected in 2005
.
Brian Houston is calling Christians to pray for and honour a man who claims to be 'Christ on earth'; promotes idol worship; promotes praying to the dead (Saints); and claims to forgive sin! Yes, we are to pray for our enemies that they may be saved; however we are not to pray for the things that Brian is praying for.
Brian says 'Pope Benedict XVI is a
spiritual and experienced leader
and is now head over a significant portion of
the Christian community'
Really Brian? Having another god that you sacrifice on every altar is 'Christian'?
Also, 'We pray too that this papacy,
like those before it
, is marked by a commitment to seeing
the Christian message continue to go forward
and people changed by the power and truth
of the Gospel'
.
Really Brian? You want to see the 'Catholic' Christian message go forward? The same message that teaches that men are to confess their sin to a Priest and not to Jesus for forgiveness, the same message that teaches Mary is a co-redeemer and the
same
message that by-passes true repentance
?
He does say that, 'Obviously, as Protestants, our views are considerably different to the Pope's on a number of issues', but what issues? Do you ever hear Brian speaking out about the Catholic false god?
Next he says, 'as Protestants we share a
common desire to exalt Christ'
, but which Christ? Does Brian mean to exalt the Pope who claims to be 'Christ on earth' and to be infallible? Or does he mean exalt the 'Eucharist' in a Monstrance, an idol and an abomination before God?
Don't go to God for forgiveness of sins, come to me
."
I am not sure that the Popes would be willing to return the favour and tell Brian Houston that they applaud his commitment to the going forward of the gospel. Because the Popes have declared that there is '
no salvation outside of the Roman Catholic Church
'.
http://catholicism.org/category/outside-the-church-there-is-no-salvation
(Then again – Brian Houston teaches something similar.)
Next we come to World Youth Day 2008. This was a major Catholic event in Sydney that even the Pope himself attended.
As we covered previously
, Hillsong again showed support to the Catholic Church by allowing Darlene Zschech and their youth band 'United' to perform and lead worship.
"We see World Youth Day as a great opportunity to serve the Catholic Church in its vision to present the gospel and reach out to our city, our nation and our world in unity."
Protestant Christians may feel that it was appropriate for Darlene and United to perform at a Catholic event, as they may have the opportunity to share the true gospel message. However by just attending,
they align themselves with the Catholic Church and show support for her false gospel teachings.
Here is Joel Houston (United) performing at World Youth Day 2008.
Source: Uploaded by ReceiveThePowerLive, Official Receive The Power Live (Part 4d), Youtube, https://www.youtube.com/watch?v=I8qbJs24ot0, Published 11/5/2010. (Accessed 07/09/2014.)
At the same event, on the same night and on the same stage that Hillsong performed and led Catholics in worship, Bishop Joe Crech said the following blasphemous statement, while leading Mass (The Sacrifice):
Remember from earlier that the 'Blessed Sacrament' is another 'Jesus' and an idol. Notice it's not the God of heaven that wants to be with them, touch them and heal them; it's the 'idol god' in the Monstrance, on the altar.
This is the 'jesus' that Hillsong led Catholics in worship for
, whether they knew it or not,
they assisted Catholics in worshiping this false god and idol!
After this false 'god' is placed on the altar, they burn incense to it.
The second commandment:
nd
Commandment out of their Bible and thus changed the Word of God, allowing this idol worship.
This does not seem to bother Hillsong!
Next, the blasphemy continues at World Youth Day by everyone bowing down before the 'idol god' in worship.
Again this is the same stage that Hillsong had just performed on!
When was the last time Hillsong spoke out against this sin of idolatry? Instead of speaking out against it, they choose to support it.
see Pope Benedict at World Youth Day 2008
holding up their 'another Jesus' god.
ROMAN CATHOLICISM PROMOTED AT HILLSONG CONFERENCE 2014
Next we come to Hillsong's recent 'No Other Name' Conference 2014.
Hillsong seem to be going out of their way to help Catholics believe that their 'jesus' is the same Jesus of the Bible.
Hillsong provided a Catholic Senior Pastoral Leader, so Catholics attending the conference can understand the conference in a Catholic setting!
This is Bruce Downes aka 'The Catholic guy'. He took a master class at the Sydney Australia 2014 'No Other Name' Conference.
Bruce Downes openly admits that his 'Jesus' is in the Eucharist (see below picture of his book). And Hillsong still allowed him to take a Masterclass and speak about a false, blasphemous gospel that by-passes true repentance.
We should be speaking out against this even if it offends. How else will Catholics be saved? They certainly will not be saved at a Hillsong Conference if they are given a Catholic Leader to speak to them. How else will Hillsong turn from their ways?
Again, why are we called 'Protestants'? Because we Protest the Catholic faith, not embrace it or accept it.
By Hillsong's own actions and statements, how can they call themselves a Protestant church? By their fruit you will recognize them!
YOU DON'T THINK HILLSONG HAS AN AGENDA?
Do you want to know what makes Hillsong worse than Roman Catholicism?
While Hillsong parades itself as a Protestant Christian denomination, Hillsong's official 'NO OTHER NAME – Your Hillsong Conference Diary' say that The Catholic Guy's Masterclass will be on,
'Contextualising Hillsong Conference into a Catholic setting'
.
Here is the official Hillsong 'Daily Masterclass Schedule', showing 'The Catholic Guy'.
Read the pdf here:
What's next? A Muslim leader taking a Masterclass so that Muslims can hear about the Conference in a Muslim setting?
By using a Catholic Snr Leader, Hillsong are saying to all Catholics, that they don't have a problem with what they believe. In fact Hillsong will even provide support for your faith and your false god.
The following quotes are from a Hillsong email that clearly show where they stand on the matter.
http://instagram.com/p/p7MSUPGoT1/
Furthermore, how will Catholics know to turn from their blasphemous, graven images and idols
when Hillsong uses these same images
to promote their 2014 'No other Name' conference?
No Other Name
' on a blasphemous
graven image
of the Roman Catholic cult, they are saying '
this is our God'
.
This image of the 'Sacred Heart of Jesus' is an image of yet another idol that the Catholic Church teaches is to be worshiped.
it is another abomination.
This is what the Catholic Church teaches about this image of the 'Sacred Heart'.
This next picture is a screen shot of Bobbie Houston's personal Instagram. It shows Hillsong's 'devotional' booklet with the image of the Sacred Heart. Next to that is a picture of a Catholic devotional for comparison.
Hillsong are saying our God is the same as the Roman Catholic god
. They may as well be using a picture of a Monstrance and putting 'No Other Name' on it.
Some people may say that Hillsong did not intentionally use an image of the Catholic 'Sacred Heart'. Well if there is any doubt, in this next Hillsong 'No Other Name' promotional video, it shows that not only did they intentionally use this graven image but they made the 'Sacred Heart' beat (at 45sec in video).
They also include several other blasphemous Catholic idols and images with the name of Jesus. (See below screen grabs from the video.)
Notice the creepy church worship underneath the video (emphasis added):
There is NO OTHER NAME whereby men and women find their salvation, sense of purpose and eternal homecoming.
Hillsong Conference exists to champion the cause of the local Church across the earth. She exists to water the divine potential within pastors and leaders and believers alike so that together we can each know and fulfil The Great Commission given by Christ in Mathew 28.
Is it just a coincidence that Hillsong also used a photo of the Vatican in their 2014 Conference 'No Other Name' Conference advertisement? You decide.
This is not an article to point a finger at a Church, it is an article to call a church to repentance. It's not a matter of proving a point, it's a matter of eternal salvation or eternal damnation.
This article is not written with a grudge, it is not written out of spite, it is written with a broken heart.
Pope Frances has been pushing the "miracle of unity" and is hoping to fulfill his "god-given" vision by uniting the 'Protestant' church and the Roman Catholic Church. People are watching with concern Kenneth Copeland, John and Carol Arnott, Joel Osteen and many others embrace the Pope as "their pope". (We will be looking more into this later.
We've heard Christians scoff that it wont happen here in Australia. Especially in Sydney.
…
Think again.
Back in 2005, the AOG/Hillsong released this statement from Brian Houston.
PRAYING FOR NEWLY ELECTED POPE
National President of the Assemblies of God in Australia, Brian Houston, has congratulated the election of Pope Benedict XVI as the leader of the world's Catholics.
Pastor Houston said the shoes of the charismatic and endearing Pope John Paul II, who taught the world so much through his life and his subsequent suffering, would be difficult to fill.
"Pope John Paul II left an indelible mark on the world, and we pray for Pope Benedict as he takes on the leadership mantle of the Catholic Church and navigates the challenges and opportunities facing the global Church in the 21st century," Ps Houston said.
"It is important for all of us to honour and pray for anyone in a position of leadership and authority. Pope Benedict XVI is a spiritual and experienced leader and is now head over a significant portion of the Christian community, so we will pray for wisdom in his immensely influential role," he said.
"We pray too that this papacy, like those before it, is marked by a commitment to seeing the Christian message continue to go forward and people changed by the power and truth of the Gospel.
"Obviously, as Protestants, our views are considerably different to the Pope's on a number of issues however, we share a common desire to exalt Christ and serve our community to the best of our ability."
Source: Brian Houston, Praying for newly elected pope, Assemblies of God Australia, (Affiliated with ACC), 21/04/2014. (Accessed 14/11/2013.)
Tags
amway
,
amway diamond
,
bill hybels
,
Brian Houston
,
circus
,
coercion
,
Copeland
,
cult
,
finances
,
Gardeb City Christian Church
,
GCCC
,
Gloria Copeland
,
heresy
,
heretic
,
Hillsong United
,
houston
,
Hybels
,
Jeremy Pearson
,
Jeremy Pearsons
,
Jerry Saville
,
Joel Osteen
,
Joyce Meyer
,
Kenneth Copeland
,
Meyer
,
money
,
money preacher
,
New Age
,
Osteen
,
Pearson
,
Pearsons
,
pope
,
prosperity cult
,
prosperity gospel
,
Prosperity teacher
,
rick warren
,
Roman Catholicism
,
Saville
,
Schuller
,
seeker sensitive
,
sham
,
Sisterhood
,
T D Jakes
,
TD Jakes
,
warren
,
Willow Creek Church
,
word of faith
,
word of faith cult
,
word of faith heresy
Christian Witness Ministries publishes,
There had been only one side of the story told. The information was always presented in a positive light, with little opportunity to question, or linger on doubts. Any questions raised were screened and well managed. I have since learned this is a technique used by the business world to manage change. There had been more spin over the pulpit in God's name, during these months, than found in your average Colgate commercial.
GCCC has totally lost its identity!
There is no New Testament precedent for this model and certainly not for its duplication.
The Church has taken its cue from Wall Street. It has been offered the kingdoms of this world, and yet instead of denying the flesh, it has embraced the path of least resistance, and in so doing, has denied the cross, and the One who bought us.
Warren W. Wiersbe comments;
Dress down in clothing and style. Jeans are the new formal wear;
Low mood lighting similar to a bar or nightclub. In Brisbane campus, it is so dimly lit it appears like night time, yet it's 10:30 am in the morning. Quite a contrast especially in Queensland when the sun is up at 5:30 am;
Secular music is played as background music prior to the start of the service. eg The Verve – Bitter Sweet Symphony;
Worship – now accommodates the excitability of the young and the unchurched;
Music is now more about entertainment than the sole purpose of lifting up our God above all other gods;
The lyrics (words) of the songs have progressively become "I, me, my" focused instead of Christ Jesus focused – e.g. In Your Freedom I will live;
Worship is now limited to 20 minutes;
Big screens are not there for the glory of God. It's not pictures of creation, but the names and faces of those on stage that are lifted up;
Hillsong relies on the quality of programmes not the power of the Holy Spirit for transformed lives;
Preaching is now a standard 20 minute sermonette;
Preaching on the whole is "relevant" and topical. It is now a people based message to "help" the hearer with their felt-needs e.g. happiness, family , finances, relationships, job, career etc;
This type of pop spirituality effectively teaches:
Every human being is divine or basically good;
God's Word is not really the final authority, but is still useful as a moral guide;
The goal of my life is centred on me;
What I desire determines what happens in my life.
What this type of church model does, is nothing more than increase the numbers of adherents, and leaves the sinner in his sins. The church now has a flock of deceived sheep, or are they in reality misguided goats?
Messages lack any mention of sin, repentance, prayer, obedience, death to self, holiness, sacrifice, suffering, hell, even God himself.
Preaching lacks sound doctrine. Closer analysis reveals it is more based around pop psychology, than biblical truth.
The message has little challenge or need for personal self assessment.
Often this is quoted in church to expound or reveal a greater truth. It is normally thrown up on the big screen for everyone to read. The Message was produced by Eugene Peterson, as a simple paraphase, not as a translation from the original texts. Yet without fail, not a Sunday will go by without this Bible version being quoted.
To show the degree we have strayed, the KJV has over 700 references to "Lord" in the New Testament alone. The Message has just 23 verses which mention "Lord". But the real concern is that "Lord" is never once associated or found linked to "Jesus" in any way in The Message.
Brian Houston lacks or is happy to ignore all forms of discernment;
Joyce Meyer – Prosperity Teacher/ Preacher. cf. Paul's instruction about women teachers – 1 Timothy 2:12.
Joel Osteen – Prosperity Preacher and denier of the true Gospel
Jerry Saville – Prosperity Preacher
T D Jakes – Prosperity Preacher and denier of the trinity (advertised as guest speaker at the 2010 Hillsong Conference).
Rick Warren – member of the Council of Foreign Relations (CFR) trained under Robert H. Schuller (a la – The Hour of Power)
Bill Hybels – Pastor of Willow Creek Church – who has admitted getting it wrong with the Seeker Sensitive model. Hybels trained under Robert H. Schuller and is good friends with Rick Warren. According to Schuller — Self Esteem is the new reformation!! He defines sin as a lack of "self-esteem".
Pearsons – Jeremy Pearsons (wife Sarah) son-in-law of Kenneth and Gloria Copeland—visited Hillsong Powerhouse in Sydney in October 2009 for Encounter '098
Hillsong United band played for the Pope during his visit to Sydney in 2008.
Sisterhood (a term widely used by Hillsong) is a concept borrowed from the Women's liberation movement, and the new age.
Finally one of the worst instances of spiritual bankruptcy I've experienced was the live performance of the "Hillsong Creation story", featured at Hillsong Brisbane on 11-Oct-2009.
Steve Dixon then expounded for about twenty minutes the creation story as found in Genesis chapters 1 and 2.
Darwin would have been proud on this 150th Anniversary of his Origin of Species, and Richard Dawkins would be more than bemused.
The Church in the West for too long has sailed along in fair seas. The Zephyr has fluttered at our sails in the height of summer, and has blown comfort upon the people. Our ship has sailed below sapphire skies, the crew sleeps, while the current of the world, and tides of apostasy have taken us off course, and we barely know it.
The worst of it is, darkening clouds beckon on the horizon, bringing a storm of ecumenism and coming persecution with barely anyone to trim the sail of this wayward vessel.
Since the introduction of Hillsong to Brisbane, this once truly relevant and purposeful church has been sideswiped. A church birthed in humility and zeal by its founders, who gave all to the cause of Christ, have now become a people who have lost their way, and now dance to the flute of the musician, whose song is not the song of the Lord.
The love of fame and fortune have been Christianized, and an unsuspecting flock now give their allegiance to a captain who cares "little, if anything, for their salvation".
The way once narrow, now abandoned, has become a broadened highway, opening up to the verdant plains leading on to the gates of a city that arises in the distance. It is that great city, clothed in fine linen, and purple, and scarlet, and decked with gold, and precious stones, and pearls! It is a city proud, that city upon seven hills – BABYLON.
about the author
Lance Goodall and his wife Norilyn have both served the Lord in the AOG movement for many years. They have since come out of the Church Growth Movement. They both have a concern for the knowledge of God and His glory. They carry in their heart, a love for Gods' honour, for His Word, and for the salvation of the lost….
5) J. Edwin Orr, Revival is like judgement Day (Atlanta: Home Mission Board, SBC 1987) p. 14
6) Warren W. Wiersbe – The integrity Crisis (Nashville; Oliver Nelson Publishers, 1988) p. 56.
7) I personally visited the store, and viewed the books all over the shelves in the resource centre (bookshop) at Brisbane Campus. I suggest you check out any Hillsong bookshop