HIV-positive women sue Kenya government and NGOs over sterilisation
Médecins sans Frontières (France) and Marie Stopes International named in lawsuit claiming violation of human, constitutional and reproductive rights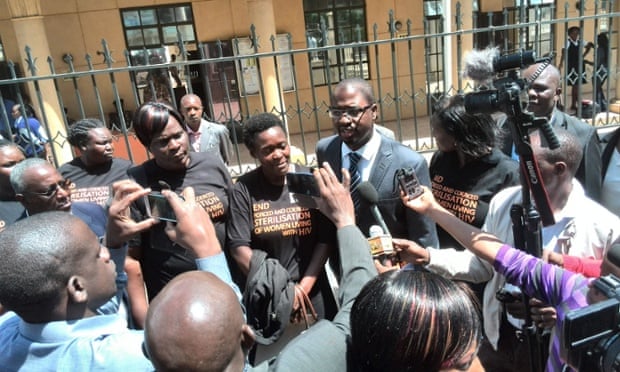 Five HIV-positive women in Kenya are suing the government and two top international NGOs, claiming they were sterilised without their consent.
The group this week filed a legal action against parties including the Kenyan health ministry, Médecins sans Frontières (MSF) and Marie Stopes International.
Meanwhile, activists protested in the capital, Nairobi, arguing that forced sterilisation is still widespread and should be be banned. The women marched from the high court to Uhuru Park with T-shirts that said: "Enforced and coerced sterilisation of women living with HIV".
Lawyer Allan Maleche
said his five clients
were sterilised in health facilities in Nairobi county through a procedure known as bilateral tubal ligation. The various circumstances allegedly included: threats to withhold food portions and baby formula milk; inducement with the promise to pay medical and maternity fees; lack of provision of essential information to enable the women to make informed decisions; lack of provision of choices of other forms of family planning methods for the women.
Maleche said that one of the women was given two discount vouchers to reduce the cost of delivering her baby in hospital: one was for a caesarian but she did not realise the other was for tubal ligation.
"They have been psychologically affected, they have found it difficult when their spouse has left them for another spouse who can have more children," the lawyer said on Thursday. "There is depression because something so valuable in their lives had been taken away from them. Their spouses wanted more children."
MSF and Marie Stopes International did not directly carry out sterilisations, Maleche added, but allegedly referred the women to government hospitals where the operations were performed.
The lawsuit asks the court to make declarations including "the sterilisation of these women in these circumstances violated their human and constitutional rights" and "women living with HIV have equal reproductive health rights as all women including the right to freely and voluntarily determine if, when and how often to bear children".
One of the group, Teresia Otieno,
told the BBC
: "I went in for an operation to give birth to my first child. By the time I was leaving the operation the doctor told me I had been sterilised."
MSF said it had never encouraged surgical sterilisation as a preferred contraceptive method. Bilateral tube ligation was one contraceptive measure described to patients.
Dr Alexandra Vandenbulcke, MSF's medical coordinator in Nairobi, said: "MSF takes these allegations extremely seriously and is reviewing them carefully. As a medical humanitarian aid organisation, MSF is committed to ensuring that all of our patients are fully informed about their medical options and that all of our patients provide full and informed consent prior to any medical treatment they receive."
Faustina Fynn-Nyame, country director of Marie Stopes Kenya, said: "We are currently investigating the stories, but would be deeply concerned about any possibility that any woman had the kind of experience outlined in the report while under our care.
"If the accounts are accurate, they are wholly inconsistent with our principles of voluntarism, informed choice, and informed consent which are fundamental to our values, policies, and practices in all of the 38 countries we work in around the world.
"We will be working with government, private and NGO family planning providers in Kenya to determine the facts of these historical claims, and to reinforce our shared commitment to informed choice and informed consent."
In 2012,
a landmark report entitled Robbed of Choice
, produced by the African Gender and Media Initiative, contained powerful testimonies from 40 Kenyan women who said they had been affected. Its author, Faith Kasiva, described the forcible and coerced sterilisation of poor, HIV-positive women as "systemic in public health facilities".
She
told TrustLaw
: "We live in an African cultural setting where having a child or motherhood is glorified in a way that probably it's not in other societies. A lot of these women, because they cannot give birth, they have been chased away from their homesteads. Others have been disinherited."
The report quoted Selina, a 23-year-old woman, who said she was admitted to the Kenyatta national hospital in 2000 with tuberculosis and pre-term labour pains. She told how she underwent a caesarean section and, in the process, was sterilised after her husband signed the consent forms without her knowledge.
Her husband sent her away and married another woman because he "could not live with a woman who cannot give birth", she was quoted as saying. "The sterilisation ruined my life."
The women's campaign received a boost in 2012
when a court in Namibia ruled
that state hospitals illegally sterilised three HIV-positive women. The women had not given informed consent as they were presented with sterilisation forms just before or after giving birth, without being told what they were signing.
However, the judge did not feel there was sufficient evidence to prove that it was a discriminatory practice against women living with HIV.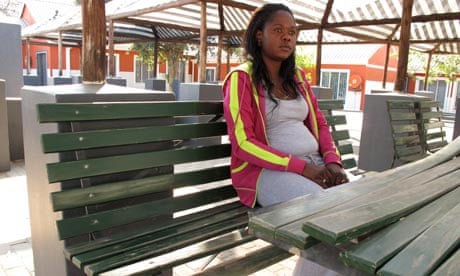 One of the three Namibian women subjected to enforced sterilsation who won a high court victory hailed as significant for women elsewhere. Photograph: Alex Duval Smith
Namibia court rules HIV-positive women sterilised without consent
Sterilisations on three mothers carried out at same time as caesareans, but judge rejects claim that they were targeted because they were HIV-positive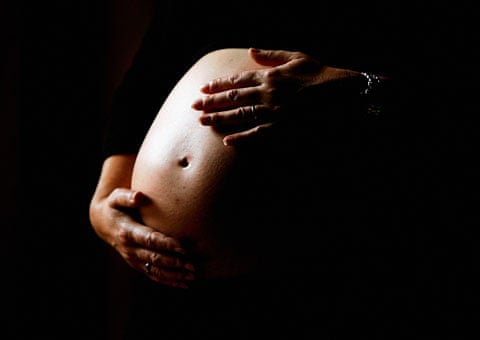 In a landmark judgment for patients' and women's rights, the high court in
Namibia
on Monday ruled in favour of three women who claimed they had been sterilised without their informed consent. But the judge in the capital, Windhoek, rejected a claim that they had been targeted for sterilisation because they are HIV-positive.
The case, LM&MI&NH versus the government of the Republic of Namibia, is being watched by health rights campaigners around the world. In Africa – especially Kenya, Swaziland and South
Africa
– allegations have recently begun to emerge of state hospitals practising sterilisation of HIV-positive mothers.
The Namibian case, which began two years ago, was brought by the country's legal assistance centre on behalf of three women aged between 22 and 47 who had caesarean deliveries to reduce the risk of transmitting HIV to their babies. The sterilisations were carried out at the same time as the caesareans.
Facing a court room packed with campaigners wearing black T-shirts printed with the words "Non negotiable: my body, my womb, my rights", Judge Elton Hoff took two hours to read his judgment.
He said the three women in the case, who were sterilised in Namibian state hospitals between 2005 and 2007, had dealt with health staff who could not speak their language, Oshiwambo. They were handed consent forms containing unintelligible acronyms. The forms were produced while the women were in labour, minutes before they were wheeled into the operating theatre. In at least one case, the woman had been in labour for four days and was made to believe she would only be eligible for her caesarean if she signed the form. In all three cases, the women only realised the meaning of "BTL" – bilateral tubal ligation – after the surgery.
'No one has the right to take away my womanhood and leave me at the mercy of the cruel and unfair judgments of my community'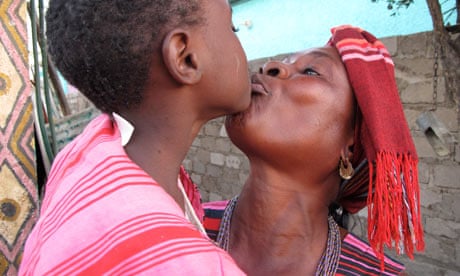 Ndinaomukulili Mooses says her life was ruined when she suffered coerced sterilisation during the birth of her daughter Theopolina. Photograph: Alex Duval Smith
The judge said: "There could not have been counselling in those circumstances. No woman should be required to sign forms during the height of labour. Such a practice is highly undesirable."
He dismissed the Namibian government's denial that the women had been forcibly sterilised, saying poor record-keeping in state hospitals left the government with no defence. "There is no indication in hospital records that plaintiff No3 had given her consent at any time before the surgery," said the judge.
While admitting that health workers in Namibian state hospitals face tremendous pressures, the judge called on the government to institute group counselling about contraception and to make information available in all languages necessary.
But although the judge said damages for the women could be discussed, he did not rule on an amount. He stopped short of ordering the government to issue a circular imposing a change of practice in state hospitals. The judge also claimed the women had not sufficiently proved that they were targeted for sterilisation because they are HIV positive.
Nevertheless, their lawyer, Amon Ngavetene, welcomed the judgment. He said: "I was happy that the judge said we are moving from medical paternalism to patient autonomy. This marks an important step forward for patients' rights. It means there is a need for health practitioners to look at ethical issues and record keeping. If the government is not prepared to settle out of court in terms of damages then we will obviously come back to court."
Ngavetene said the judgment marked a breakthrough in terms of people's perceptions of their rights. "In Namibia, because of our history, people think they have only been wronged by the government if it stops a protest or muzzles the media. This case highlights the fact that the government is responsible for the actions of the people it employs, it is expected to employ enough people and the right people."
About 13% of adults in Namibia are HIV-positive, according to UNAids. Anti-retroviral drugs are widely available and the use of Nevirapine – a drug treatment to prevent mother-to-child transmission of HIV – is widespread.