A team of U.S. Navy engineers survey the site they chose to build a 25-bed medical facility next to the airport in Monrovia, Liberia, on Saturday, Sept. 27, 2014. About 1,400 soldiers will head to Liberia in October to help support the fight against the Ebola virus.
First read;
Wickedness in high places : When Ebola creators pretend to be messianic solvers on their own biological weapon : WHO meets on experimental Ebola drug use
The Ebola Outbreak: U.S. Sponsored Bioterror? Why Was Ebola-Infected Patrick Sawyer Cleared for Travel?
The Ebola Outbreak: U.S. Sponsored Bioterror?
Ebola is 'devouring everything in its path.' Could it lead to Liberia's collapse?
Catholic, Episcopal leaders in Liberia: Ebola is God's punishment for "penetrating homosexualism". Isn't Roman Catholicism an abomination to God just like homosexuality ?
LUWEERO EBOLA VICTIM FREQUENTED FOREST: OH! REALLY
Liberians Ebola clinics overwhelmed, struggling
Infected Ebola patients flee after attack on clinic amidst thrall of 'wild rumours' that the virus was invented by the West
Inside the western heart of darkness : The so called Western Pan African African Multi-national Companies looting mineral resources from D.R.Congo
Chevron Cleared in 1998 Shooting Deaths of Protesters in Niger Delta
Shell pays out $15.5m over Saro-Wiwa killing
The House approves $700 million in Ebola funding for troop deployment
The House Appropriations Committee approved the release of funds Thursday but asked for assurances that U.S. troops won't be exposed to Ebola.
NEW YORK DAILY NEWS
Thursday, October 9, 2014, 3:11 PM
The House Appropriations Committee approved the release of funds Thursday, on top of the $50 million previously approved.
The money comes days after General David M. Rodriguez, Commander of U.S. Africa Command, estimated military operations in the hotbed of the disease in West Africa would cost $750 million over the next six months.
More than 400 U.S. troops are already in the area to provide humanitarian assistance and as many as 4,000 more could arrive over the next few weeks.
The humanitarian effort includes military personnel working in and around the Liberian capital of Monrovia, building and subsequently running mobile medical labs called Ebola Treatment Units, or ETUs, to assist local health care workers diagnosing patients with Ebola. The labs are designed to process as many as 100 samples per day.
Rodriguez said this week that troops are receiving strict predeployment training before entering the region. If a member of the military contracts Ebola, that person will be returned to the U.S.
But in approving funds for military operations in West Africa, House Appropriations Defense Subcommittee Chairman Frelinghuysen in a statement on Thursday expressed his "serious concerns" about the safety of service members in the region.
"We have no greater obligation than to ensure their well-being while they act on our behalf."
In late September, airmen from the 633rd Medical Group were sent to support humanitarian relief operations in Ebola-stricken African nations.
A total of 1,400 from the U.S. Army are expected to head to Liberia over the next few weeks as part of Operation United Assistance — 700 from the Army's 101st Airborne Division, based at Fort Campbell, Ky., and another 700 who are primarily combat engineers.
On Wednesday, the Pentagon announced 100 Marines based in Moron, Spain, would deploy temporarily to Monrovia, but they will only remain a few weeks until the Army is in place to take over the long-term operation.
Additionally, the mobile medical labs will be staffed by personnel from the U.S. Naval Medical Research Center. So far, three labs are in operation and there are requests to establish four more.
U.S. troops head to Africa for Ebola mission
About 1,400 soldiers will head to Liberia this month to
help support the fight against the Ebola virus
that is spreading across West Africa, a Pentagon official said Tuesday.
The Army's 101st Airborne Division, based at Fort Campbell, Ky., will provide about 700 of those soldiers, while the other 700 will be mostly combat engineers culled from Army units across the force, Defense Department spokesman Rear Adm. John Kirby said.
The soldiers will be among the total 3,000 U.S. troops whom the Pentagon plans to send into West Africa this fall.
About 300 of the troops from the 101st Airborne will come from the division headquarters, and they will serve as the Joint Force Command for the mission. They are expected to arrive by the end of October.
"Operation United Assistance is a critical mission," said Maj. Gen. Gary Volesky, commanding general of the 101st Airborne Division, in a statement. "We will coordinate all of the Department of Defense resources in Liberia to support USAID and the government of Liberia to contain the Ebola virus and, ultimately, save lives."
The U.S. military mission will include building 17 100-bed hospital facilities and a health care facility for infected physicians and health care workers.
U.S. troops will not provide direct care to patients infected with the Ebola virus, according to the Pentagon.
More than 3,000 people have died in the current Ebola epidemic and at least 6,574 have been infected, according to the World Health Organization.
National Center for Emerging and Zoonotic Infectious Disease
at the U.S. Centers for Disease Control and Prevention said during a conference call Tuesday that the outbreak is considered nearly contained in Nigeria and Senegal, which saw just 20 and 1 case, respectively.
But in the most affected nations, including Liberia, where troops are heading, and Sierra Leone, the number of cases are doubling roughly every three weeks, he added.
The CDC estimates the disease could affect up to 1.4 million people by January if it's not contained.
On Tuesday, the Centers for Disease Control and Prevention confirmed the first case of Ebola in a critically ill patient diagnosed in a U.S. hospital. The unnamed man, who traveled from Liberia on Sept. 19, is being treated in the intensive care unit at Texas Health Presbyterian hospital in Dallas. A second person, who had close contact with the Dallas patient, is being monitored for Ebola.
Josh Michaud, associate director of global health policy for the Kaiser Foundation, said more than 300 U.S. government workers are in the affected countries, including 28 employees of the
U.S. Agency for International Development
, more than 100 CDC workers and roughly 200 military personnel.
Those troops include Army Maj. Gen. Darryl Williams, commander of U.S. Army Africa and Operation United Assistance, as the deployment is being called, and dozens of Navy Seabees who are laying the foundations for construction of the new Ebola care facilities.
When the 101st Airborne Division soldiers deploy, Volesky will take over for Williams, who will return to his duties as commander of U.S. Army Africa.
About 300 soldiers from the division headquarters will deploy to Monrovia, said Lt. Col. Brian DeSantis, the 101st Airborne's spokesman. The rest of the soldiers will come from the division's sustainment brigade and the 86th Combat Support Hospital.
"It will be very humanitarian-assistance focused," said DeSantis.
Deploying units will include lift aviation, field hospital assets, transportation soldiers and engineers, he said.
While deployed, the soldiers will be responsible for building some Ebola treatment units and providing logistical support to USAID.
"We also have the responsibility of setting up the training for approximately 500 aid workers per week that will go out and actually staff the (Ebola treatment units)," DeSantis said.
Another priority is force protection, he said.
"We're making sure all the soldiers who deploy, not just from Fort Campbell but across the Army, get all the training required to protect themselves from Ebola," he said.
Deploying soldiers should have a "very, very low" risk of contracting Ebola, DeSantis said.
One example is malaria, which is more prevalent in Liberia than Iraq or Afghanistan, he said.
"Protecting the health of our Soldiers is our number one priority," Volesky said in his statement. "Before our Soldiers deploy they will be trained on how to protect themselves from Ebola and all other potential health risks found in Liberia."
A Department of Defense spokeswoman said last week the department will make "every effort to ensure that U.S. personnel on the ground and all health care workers" are protected.
Troops will receive regionally specific training on Ebola prevention, malaria prevention and other medical threats and also are required to have immunizations ranging from chickenpox, influenza and hepatitis to yellow fever and pneumococcal vaccines, according to a DoD official.
The department has been involved in research on Ebola treatments and preventives for more than two decades.
Defense Secretary Chuck Hagel said last week the
Walter Reed Army Institute of Research
received approval to begin safety testing of a potential vaccine.
However, health experts, including Monroe and Sophie Delaunay, executive director of Medecins Sans Frontieres, or Doctors Without Borders, have cautioned that an effective vaccine is still months from development.
"In the meantime, we need to increase the access to isolation units," Delaunay said during a Web seminar for reporters Tuesday sponsored by the Kaiser Family Foundation.
The soldiers from the 101st Airborne Division will form a headquarters element for the 3,000-troop mission that is estimated to last about six months.
US military to help Ebola effort
Publish Date: Sep 07, 2014
US President Barack Obama. AFP Photo
Newvision,
THE US military will join the fight against fast-spreading Ebola in Africa, President Barack Obama said in an interview aired Sunday, but he warned it would be months before the epidemic slows.


Obama said that, in its current form, he did not believe Ebola would reach the United States, but warned the virus could mutate and become a much greater threat to those outside Africa.


The president argued that the deadly toll of the disease was being exacerbated because of the rudimentary public health infrastructure in Africa.


"We're going to have to get US military assets just to set up, for example, isolation units and equipment there, to provide security for public health workers surging from around the world," Obama said on NBC's "Meet the Press."


"If we do that, then it's still going to be months before this problem is controllable in Africa," he said.


But he added, "if we don't make that effort now, and this spreads not just through Africa but other parts of the world, there's the prospect then that the virus mutates.


"It becomes more easily transmittable. And then it could be a serious danger to the United States."


The death toll from the Ebola epidemic -- which is spreading across West Africa, with Liberia, Guinea, Sierra Leone the worst hit -- has topped 2,000, of nearly 4,000 people who have been infected, according to the World Health Organization.


Obama did not give details on when US military assets might be deployed to tackle the crisis, but said Washington needed to view the outbreak as a "national security priority."


The pledge of US military support follows the European Union's decision on Friday to sharply increase funding to tackle the outbreak, boosting previously announced aid to 140 million euros ($183 million).


The European package is designed to boost overstretched health services, fund mobile laboratories for detecting the disease, safeguard the provision of food, water and sanitation as well as help the broader economy and strengthen overall public services.

Obama said the poor infrastructure of public health services in the Ebola-stricken region was responsible for the severity of the outbreak.


"They didn't have a public health infrastructure. So now what we have is what should be a containable problem breaking loose because people aren't being quarantined properly. People aren't being trained properly. There aren't enough public health workers," he said.


"It's also an argument for why, when I go before Congress, and I say, 'Let's give some public health aid to countries like Liberia, so that they can set up hospitals and nurses and vaccinations, et cetera,' you know, sometimes the American public says, 'Why are we wasting money on them?'


"Well, part of it is because, when we make those short-term investments now, it really pays a lot of dividends in the future."


Obama's pledge of support comes amid warnings from aid agencies including Medecins Sans Frontieres that the world was "losing the battle" to contain the disease.


MSF international president Joanne Liu told a briefing at the United Nations in New York last week that the international community had "joined a global coalition of inaction" in dealing with the crisis.

AFP


Obama: Ebola crisis 'spiraling out of control'
Publish Date: Sep 17, 2014
US President Barack Obama speaks following meetings at the Centers for Disease Control and Prevention in Atlanta, Georgia. newvision

ATLANTA - President Barack Obama issued a global call to action to fight West Africa's Ebola epidemic on Tuesday, warning the deadly outbreak was unprecedented and "spiraling out of control", threatening hundreds of thousands of people.
Speaking as he unveiled a major new US initiative which will see 3,000 US military personnel deployed to West Africa to combat the growing health crisis, Obama said the outbreak was spreading "exponentially."
"Here's the hard truth. In West Africa, Ebola is now an epidemic of the likes that we have not seen before," Obama said.
"It's spiraling out of control. It is getting worse. It's spreading faster and exponentially. Today, thousands of people in West Africa are infected. That number could rapidly grow to tens of thousands.
"And if the outbreak is not stopped now, we could be looking at hundreds of thousands of people infected with profound political and economic and security implications for all of us."
Dr. Kent Brantly was cured of Ebola after contracting the deadly virus while working with a charity in Liberia

As well as the military deployment, the US will also set up a command and control center in the capital of Liberia, the hardest-hit country, build new treatment centers and train health workers.
Precise timing on deployment was still unclear.
"No deployment in the coming days. The troops have to be properly trained and equipped," a Pentagon official said privately. Among the US soldiers sent to West Africa will be doctors and also engineers to set up the field hospitals, the official said.
Meanwhile, the United States moved to fund these plans.
Specifically, the Department of Defense plans to ask Wednesday to have reprogrammed "an additional $500 million in Fiscal Year 2014 Overseas Contingency Operations (OCO) funds to provide urgent humanitarian assistance to fight Ebola," an administration official said.
This is separate from the funds already put toward the effort, including the $175 million already dedicated, and the $88 million requested through a continuing resolution.
The Ebola epidemic has killed more than 2,400 people in Guinea, Liberia, Nigeria and Sierra Leone this year.
The virus can fell its victims within days, causing severe fever and muscle pain, weakness, vomiting and diarrhea -- in some cases shutting down organs and causing unstoppable bleeding.
No licenced vaccine or treatment exists.
Drills being carried out on how to handle suspected cases of Ebola. (AFP)

Security Council action
The United Nations Security Council is poised to adopt a resolution on Thursday exhorting countries to provide more field hospitals and urgent aid to the crisis-stricken region.
Likely passage of the resolution marks only the third time that the Security Council will vote on a public health crisis after resolutions on AIDS in 2000 and 2011.
"This has gone beyond health issues," UN Secretary General Ban Ki-moon said.
"It has gone to areas affecting social and economic situations. It may even affect political stability if not properly contained and treated."
The United Nations said nearly one billion dollars would be needed to beat back the worst-ever outbreak of the disease, which is on track to infect 20,000 people by the end of the year.
The world body has set a goal of stopping the spread of Ebola within six to nine months but aid agencies are complaining that help has been too slow.
Ban is planning a "high-level event" on the sidelines of the UN General Assembly next week to draw attention to the crisis.
UN humanitarian chief Valerie Amos told reporters in Geneva the Ebola crisis faced a "huge funding challenge."
The capacity of Guinea, Sierra Leone and Liberia to provide even the most basic necessities is "on the brink of collapse," she warned.
The United Nations said the response to the crisis would require $987.8 million (763 million euros), with about half needed for Liberia.
Ebola, a deadly virus, has killed more than 2,000 people in West Africa in the latest outbreak. (AFP)

World 'needs to do more'
The World Bank meanwhile approved a $105 million grant, part of a $200 million pledge made in early August aimed at helping people cope with the economic impact of the crisis and strengthening public health systems.
"The world needs to do much, much more to respond to the Ebola crisis in these three countries," World Bank President Jim Yong Kim said in a statement.
The UN said if the international community and affected countries respond swiftly and energetically, transmission should begin to slow by the end of the year and halt by mid-2015.
"The level of surge we need to do is unprecedented. It is massive," the United Nations' Ebola coordinator David Nabarro told reporters.
China will send a 59-person mobile laboratory team from its Centre for Disease Control to Sierra Leone, including epidemiologists, clinicians and nurses -- bringing the number of Chinese medics in the country to 174, the WHO said.
The EU, Britain, France and Cuba have also pledged to send medical teams and other aid to the region.
But this is far from enough, warned Joanne Liu, head of the Doctors Without Borders (MSF) charity.
Noting that the known Ebola toll "represents only a fraction of the real number," she stressed that "the ground response remains totally and lethally inadequate."
"The window of opportunity to contain this outbreak is closing," she warned.

AFP
Ebola death toll climbs to 2,461
Publish Date: Sep 16, 2014
Workers wearing Personal Protective Equipment (PPE) suits carry a body at the Elwa hospital run by Medecins Sans Frontiers (Doctors without Borders). AFP Photo
Ebola: 'In decades of humanitarian work, I've never seen such suffering'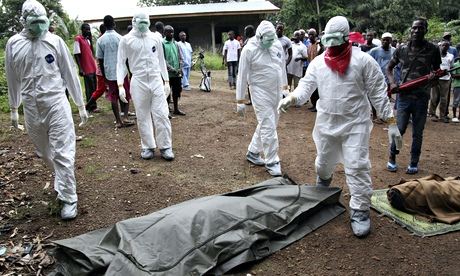 Liberian nurses prepare to carry the body of an Ebola victim. Photograph: Ahmed Jallanzo/EPA
The Ebola outbreak in Liberia demands global help, says an aid worker
I wake up each morning – if I have managed to sleep – wondering if this is really happening, or if it is a horror movie. In decades of humanitarian work I have never witnessed such relentless suffering of fellow human beings or felt so completely paralysed and utterly overwhelmed at our inability to provide anything but the most basic, and sometimes less than adequate, care.
I am supervising the suspect tent, which has room for 25 patients who are likely to have
Ebola
– 80-90% of those we test have the virus. We administer treatment for malaria, start patients on antibiotics, paracetamol, multivitamins, rehydration supplements, food, water and juice while they wait for their results. Sometimes people have arrived too late and die shortly after arriving.
In one afternoon last week I watched five seemingly fit, healthy, young men die. I gave the first a bottle of oral rehydration solution and came back with another for the second. In the half a minute or so in which I had been away the first man died, his bottle of water spilt across the floor. The four others followed in quick succession.
We sometimes have to hold back tears but try to offer patients all the comfort that we can – especially if they are in their last moments. I cannot spend as much time as I would like with each of them due to the intense heat of the personal protective equipment and the sheer number of patients.
My colleagues in logistics are doing a fantastic job of building new extensions and hopefully, in the next week, we will increase our capacity further still. In the meantime, we are only open to admit patients for a couple of hours each day before all our beds are full again. Once admitted, patients spend 10-14 days with us, and if their body beats the virus – and they have three days in which they do not show symptoms – we perform another test to see if they have fully recovered.
Unfortunately, people die before they even reach our centre. It is a difficult and dangerous procedure to remove a body from a vehicle and the team often has to do this many times a day. We have been forced to order an incinerator from Europe because the local crematorium cannot cope with the number of bodies.
Each day this week patients have recovered – in the early stages there were no survivors whatsoever. Yesterday seven people went home, including a young man who had painted the inside of one of our tents red when he arrived because he was bleeding so profusely. Our team had thought he had no hope of survival. It is lovely to see the patients going home with their certificate of discharge, though most have lost family members or friends, and can face stigma upon their return.
I believe MSF is doing a fantastic job, but we are only able to care for a minority of the people in Monrovia who have
Ebola
. We also work in the north of the country, but every county is now reporting cases and we have absolutely no capacity to respond.
It is extremely sad to see the indifference of the international community with regards to this epidemic. It is great to see an added interest and investment in research for vaccines, but we urgently need experts who are physically present and more structures on the ground here in west
Africa
, where the situation continues to be catastrophic.
The author is an aid worker for
Médecins Sans Frontières
who wished to remain anonymous
THE deadliest Ebola epidemic on record has now infected nearly 5,000 people in west Africa and killed around half of them, the World Health Organization said Tuesday.


The UN health agency said a total of 4,985 people had been infected across five west African countries, and that 2,461 had died.


In the three hardest-hit countries of Guinea, Libera and Sierra Leone, nearly half of the cases were recorded in the past three weeks, WHO said.


Here are the latest WHO numbers:


In Guinea, where the outbreak began at the start of the year, Ebola had as of September 13 claimed 595 lives, or 64 percent of the 936 people infected.


Thirty-three percent of those cases surfaced in the 21 days leading up to September 13.

In Liberia, which has been hardest-hit by the outbreak, 1,296 people had died from Ebola as of September 9, representing 54 percent of the 2,407 people infected.

A full 57 percent, or 1,383, of those cases were recorded during the three weeks before September 9.

In Sierra Leone, 562 people had died from Ebola by September 13, accounting for 35 percent of the 1,620 people infected.

Forty percent of those cases were recorded during the preceding 21 days.

Nigeria had meanwhile, as of September 13, seen eight Ebola deaths since the virus first arrived in the country with a Liberian finance ministry official who died in Lagos on July 25.

That amounts to 38 percent of the 21 cases. Six of those cases have emerged in the past three weeks.

Senegal's only confirmed Ebola case -- a Guinean student who crossed the border just before it was closed on August 21 -- has recovered, but the country will not be declared transmission free before 42 days have passed since the case was recorded.

Separate outbreak
The Democratic Republic of Congo has meanwhile been hit by a separate Ebola outbreak, which as of September 14 had killed 39 people, including eight health workers, out of 66 cases.

There are five known distinct strains of Ebola, and the outbreak raging in west Africa stems from the Zaire strain.


That strain caused the world's first known Ebola outbreak in DR Congo in 1976, until now the deadliest on record, with 280 deaths.


The current DR Congo outbreak meanwhile is believed to come from two separate strains, the Zaire and the Sudan strain, which first surfaced in Sudan, also in 1976.