Besigye tormentor Arinaitwe splits with wife
Publish Date: May 23, 2015
The infamous April 2011 image of Arinaitwe smashing the car of Besigye to demolibilise him with pepper spray before he dragged him out of the vehicle.

By Emmanuel Luganda


KAMPALA - Gilbert Arinaitwe Bwana, a senior police officer who infamously tortured former FDC president Kizza Besigye during a violent arrest, has split with his wife in a flurry of counter accusations of adultery.

Arinaitwe has been married for three years to Beatrice Florence Nagawa, a lawyer by profession.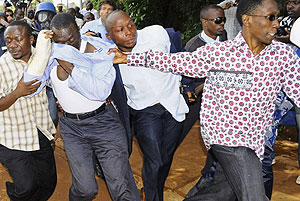 The marriage was dissolved Friday following a divorce suit that was filed by Nagawa late last year over accusations of adultery.


In the ruling that was delivered by Emmy Geoffrey Sayekwo, a Grade One senior principal magistrate at Mwanga II Court, Arinaitwe was denied custody of their two children because they are still young and need the attention of their mother.


"Considering the age of the said children, the applicant [Nagawa] is the fit and proper person to maintain the children," Sayekwo ruled.


He added that, to avoid breaking family ties, Arinaitwe will have the children for only one week during every school holiday and will be paying a monthly upkeep of sh200, 000.


"You will stay with your children in the last week of the holidays so that you can do shopping for their school requirements," Sayekwo said.


Arinaitwe made headlines in international media on April 28, 2011 when, during Besigye's arrest, he smashed the back window of the opposition leader's four-wheel-drive vehicle with the butt of a pistol and sprayed pepper gas in his face.


He then dragged the immobilised politician out of the car, all in front of local and international media.


Besigye was to later be flown to Nairobi for medical treatment.
'Born again' State security agent from Pastor Kayanja's church tortures Uganda opposition leader during arrest
Senior Policeman demoted over brutal arrest: Selective justice!! How about Besigye's tormentor Arinaitwe
http://watchmanafrica.blogspot.com/2012/04/senior-policeman-demoted-over-brutal.html
Arinaitwe 'Bwana' Did'nt Harm Besigye – DPP
The Director of Public Prosecution has cleared Assistant Superintendent of Police Gilbert Bwana Arinaitwe of any wrong doing in the brutal arrest of Kiiza Besigye, the former FDC president during the walk to work demonstration in 2011.
The DPP said in a letter to CIID Director that the Police officers acted within the law. He quoted section 22, 23, 24 of the police Act to defend this position.
According to DPP, the Police officers who effected the brutal arrest acted within the law to direct Besigye to use Yusuf Lule road from Mulago Roundabout and his refusal was an offence to which police was entitled to arrest him.
''Section 2 of the Criminal Procedure Code act permits police to use all means necessary to effect an arrest where a person forcibly resists the endeavor to arrest him", reads the letter to Grace Akullo, CIID Director.
According to the DPP, Besigye's act of locking himself in the car and refusal to heed to advice to open the door and held up traffic at a critical intersection in town for two hours, made the action of the police justified.
In a letter dated 26th August 2014, addressed to Grace Akullo, the Director CIID, a copy of which URN had obtained, Linon Anguzo, the senior state Attorney who wrote on behalf of the DPP notes that there is no evidence to show that the means used to effect the arrest was unnecessary.
Anguzo says there is no clear evidence that the police officers committed any offence in effecting the arrest, adding that, "Arinaitwe could have acted a little high handed but he was justified in effecting the arrest."
On April 28th 2011, heavily armed Policemen under the command of Assistant Inspector General of Police Grace Turyagumanawe, the then Kampala Metropolitan Police Commander intercepted Besigye at Mulago Hospital round about, to prevent him from accessing the city center.
Besigye locked himself in the vehicle forcing Turyagumanawe to knock on the windscreens to compel him to come out in vain. However, unidentified man in civilian clothes who was later identified as Arinaitwe, approached the window of the car and drew a pistol. He used the butt of the gun to smash the windscreen of Besigye's vehicle.
Another man in civilian clothes also smashed the windscreen of the vehicle on the opposite side using a hammer before another cop, sprayed the occupants including Besigye with pepper spray. As a result, Besigye's driver gave in and opened the door.
Besigye and his driver were arrested and bundled on a waiting police patrol vehicle.
The incident drew wide condemnation from opposition leaders, parliamentarians, civil society activists and the public. They called for immediate investigations and prosecution of the officers involved in the brutal arrest.
Police bowed to the pressure and opened investigations vie CID/SIU/GEF 60/2011 in a case of Uganda versus D/ASP Arinaitwe Bwana Gilbert and others including Grace Turyagumananwe.
The officers were tentatively charged with using unnecessary excessive force contrary to the police act and the criminal Procedure Code Act as well as brutality.
The Directorate of Criminal Investigations and Intelligence (CIID) submitted the file to the DPP for perusal and advice.
Arinaitwe: God's faithful who nearly killed Dr Besigye
Written by Administrator
Someone relatively close to some of these family members has told The Observer that the Arinaitwe they saw on television fly-kick Besigye's car window at Mulago roundabout, hammer it with the butt of his pistol and spray him incessantly as if, as one person commented on the popular social networking site Facebook, he were spraying cockroaches or some other irritating vermin, is not the Gilbert they know.
The Arinaitwe they know – and who is mostly known by his family name, Bwana – is a very calm, collected, soft-spoken and rational man. They couldn't imagine that he is capable of such degree of anger and violence that shocked the public beyond belief.
A number of people The Observer spoke to, who know and have interacted with Arinaitwe, describe him in much the same way.
"I was mostly annoyed to see that he was doing all he was doing while laughing," said someone who has interacted with him a number of times.
Nobody at this moment is able to explain how that transformation could have happened, but some within his family are beginning to think it could be a consequence of serious indoctrination he might have undergone when he joined the police.
The first born of his mother (his father, who died when Arinaitwe was still young, had another wife), Arinaitwe, who is about 31 years old, was born in Kampala and grew up around Kamwokya.
His ancestral home, however, is in Kabale, among the well-known Bwana family. His uncle, Maj Victor Bwana, was part of the 1981-86 guerrilla war that brought President Yoweri Museveni to power. Maj Bwana, who died around 1988, was a close friend of Dr Besigye, whom the nephew nearly killed on Thursday.
Arinaitwe went to Buganda Road Primary School, after which he joined Bugema Adventist School and, later, Uganda Christian University, Mukono, where he graduated in 2006. After searching for a job in vain for two years, Arinaitwe joined the police.
"There was a sense that he joined the police because he couldn't find a job," an acquaintance of his told The Observer.
This, however, needs to be taken with a grain of salt, as it runs counter to the respect and connections his family is reputed to have within the government, in which some of his relatives are employed.
Nonetheless, this acquaintance further says that upon completion of training, he was first posted to police headquarters in Nsambya, where he did not stay long before he was attached to the security of Pastor Robert Kayanja of Rubaga Miracle Centre.
Arinaitwe is a member of this church, along with several other senior and middle level police officers like spokeswoman, Judith Nabakooba, and is said to have been part of the investigations into allegations of sodomy against Kayanja.
Arinaitwe became Cadet Assistant Superintendent of Police in September 2007. His current rank is Assistant Superintendant of Police (Officer's File No. A/1089) officially in the Criminal Investigations Directorate – Homicide, although he is currently with the Kireka-based Rapid Response Unit.
Kayihura's police
That in the short time (less than three years) he has been a police officer, he was found competent enough to lead the arrest of the country's leading opposition politician is telling of the real nature of ideological orientation and transformation that the Inspector General of Police, Maj Gen Kale Kayihura, is overseeing in the Uganda Police Force.
In a February interview with The Observer, Kayihura said, among the things he was proud of as IGP is that: "The image of the police is changing. It is getting closer to the people.
It was a remote institution, station-based just out to arrest and brutalise and not be helpful to the people. That perception is starting to change. The officers are responding to this transformation. It was difficult [at the beginning]."
It is not known whether Arinaitwe was officially withdrawn from the pastor's security (one member of the church told The Observer he is still a part of it) although he is currently known to be a detective attached to the Rapid Response Unit.
This force, which is under the police, has undergone several metamorphoses from the frightening 'Operation Wembley' squad that shot alleged robbers on spot, to the Violent Crime Crack Unit – which was Wembley in everything but name – to its current RRU, which has also been fingered for its terror, torture and wanton abuse of people's rights.
God's faithful
An avowed evangelical Christian, Arinaitwe, whose name is a direct Runyankore translation of Emmanuel, which means God is with us, perceived his recruitment into the police as a calling from God to evangelise the force and win over souls to him.
Speaking assuredly at Mbarara Pentecostal Church sometime in 2009 with the kind of rhetoric only common with radical evangelicals, he is noted to have said that Uganda, under God's direct watch and unction, was undergoing serious transformation.
He challenged his listeners to remain steadfast in their faith and hope for the country and ensure they are a part of it. Arinaitwe is part of a cabal of radical evangelicals who were openly recruited into the Uganda Revenue Authority to supposedly clean up the rot in this institution and clandestinely into the police on the recommendation of top placed people in government.
Arinaitwe's evangelical community, however, are ashamed by his brutality and they are saying as much in comments posted on Facebook.
In one of many comments on his Facebook wall, Pastor Michael Kyazze of Omega Healing Centre wrote: "The guys dragging KB [Kizza Besigye], who claim to be born-again, are used to terrorise Ugandans."
Arinaitwe is married to Ms Beatrice Nagawa, an advocate.
Fact file
Name:
Arinaitwe Bwana Gilbert/ Arinaitwe Bwana Stephen became Cadet Assistant Superintendent of Police in September 2007.
Rank:
Assistant Superintendant of Police
Officers File No:
A/1089
Department:
Criminal Investigations Directorate – Homicide but currently with Rapid Response Unit
Computer No:
233553 (Old) C14409022966
Salary:
Shs 473,789 per month
Account No:
8020033837
Marital Status:
Married to Ms Beatrice Nagawa, a lawyer and advocate.