TBN Reports $30 Million Loss of Revenues in 2012
Trinity Broadcasting Network has fallen on hard times, with revenue falling almost $30 million dollars in 2012 alone.
According to
a Form 990
filed with the Internal Revenue Service, the network—whose influential founder Paul Crouch passed way in November 2013—saw massive nosedives in income between 2011 and 2012.
In 2011, the network reported $95.6 million in "Contributions and grants," while in 2012 they only received about $78.3 million. Under "Investment income," 2011's reported $17.2 million shrank to merely $4.9 million—totaling their losses in these two categories alone to about $29.6 million.
Why the decline? While still reeling from the death of Crouch, TBN is also embroiled in a million-plus dollar lawsuit with Crouch's granddaughter, Brittany Koper, in which Koper released stunning allegations of unethical financial practices. TBN denied the allegations, and the lawsuit was
thrown out
.
TBN has also weathered criticism against Paul and Janice Crouch's indulgent lifestyle,
whose two salaries together equaled a stunning $765,000 in 2010.
TBN's website refers to the network as "world's largest religious network and America's most watched faith channel."
Daughters of the whore:
TBN Apostate pastors
THE MANY DAUGHTERS OF THE
WHORE OF REVELATION 17

Joel Osteen Rebukes Apostles Paul, Peter, and John
Joel Osteen Says Mormons Are Christian
Apostasy Alert: Joel Osteen And Oprah Preach New Age Magic
Joel Osteen and The Prosperity Gospel
http://watchmanafrica.blogspot.com/2010/03/joel-osteen-and-prosperity-gospel.html
Bill Graham, America's wolf pastor who believes that muslims and Hindus are all going to heaven






Pastor Robert Believes that hell means lack of self esteem



Deceptions: Graham, Peale & Schuller
From Uganda to South Africa : Dr. Myles Monroe infests Africa with blasphemy and dominion heresy on his so called African tour
Dr .Myles Munroe's Uganda tour to Uganda: An exposition of the ecumenical and apostate state of the Ugandan Church
http://watchmanafrica.blogspot.com/2013/10/dr-myles-munroes-uganda-tour-to-uganda.html
Late Paul Crouch who believed in the Papacy
AMERICAN PROSPERITY TELEVANGELISTS ARE DYING ONE BY ONE: BUT WHERE EXACTLY DID LATE ORAL ROBERTS END UP: YOUR GUESS IS AS GOOD AS MINE!!
Late Oral Robers, famous for fleecing the flock


When Pentecostals get slain by the religious devils of ecumenical Rome : Bishop Eddie Long Church Dedication in Oakland, Ca. was a clear manifestation of infestation with religious ecumenical devils

Entering the devil's purple/scarlet curtain : Kenneth Copeland Honors Pope's Call For Christian Unity, As Pope Francis Speaks Via Video At Copeland Conference : Former Senior Pastor Ulf Ekman Converts To Roman Catholicism (Absolutely Incredible You Must Read This!)
Pastor Kenneth Copeland has joined catholic witchcraft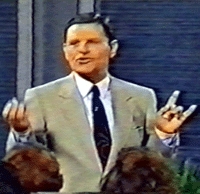 Spiritual hugs with the devil: Merging of counterfeit Christianity : Pope Francis to Pentecostal Conference: Tears of Love, Spiritual Hugs: Pope Francis' Message For Christian Unity At Keneth Copeland Ministries: Kenneth Copeland's thug Christianity and the road to Rome
When Pentecostals enter the bottomless pit of ecumenical blindness : Hill Song Church Pastor , Brian Houston says "the Muslim and you, we actually serve the same God". Can you Imagine!!
Apostate Pastor John Hagee
A Plea To John Hagee: Let My People Know
John Hagee: His False and Demonic Teachings Concerning Israel! (Another Wake-Up Call For Deceived Christians)